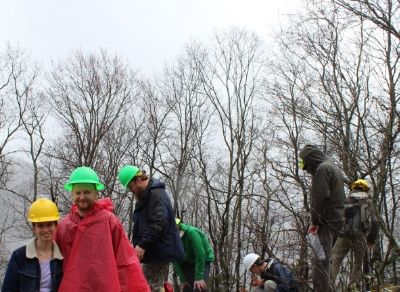 My mom watched the kids this weekend so Jeremiah and I could go to the lichen bioblitz at
Coweeta
. It was the first research done on lichens in the Nantahala National Forest. The goal was to start a checklist of lichens found in the park so their health and presence can be monitored. Lichens are an excellent indication of an environment's overall condition. So we got to be real researchers...even though we were totally clueless! :)
In the Great Smoky Mountains National Park, over 800 species of lichens have been identified. I could identify a couple of them. There were two lichenologists leading the group. They would look at a rock and immediately start rattling of scientific names. Kind of unreal. I saw some patches of varying shades of greenish gray without any real distinguishing features. I think I was expecting something like identifying birds or trees, to come away with a considerably larger chunk of information than I went in with. The main thing we learned was how little we know about the world. So many new words! All the information was a little overwhelming. But at the same time, it was entirely fascinating. When we got home, Jeremiah ordered me
The book
off ebay, so I plan on working on getting more of that information to stick in my head!
Warning: I took over 400 pictures of lichens in two days. I didn't really know how to narrow that down, so I just picked a few, especially my favorites, the
Cladonias
.
We started out Saturday morning with a class about lichens: categories, distinguishing features, what to look for, etc. We spent the afternoon checking out prime locations in the rain. We collected lichens off trees, logs, and soil. People who had chisels collected off rocks too. Specimens were put into baggies with notes listing GPS coordinates, substrate, and collector's name. We didn't have to know what we were looking at to pick it up and put it in a bag!
Our first stop was this rock face. The big brown lichens hanging down are Smooth Rock Tripe,
Umbilicaria mammulata
. It has a very, very faint mushroomy flavor. (The hard hats were required because of all the dead hemlocks. Good rain protection too.)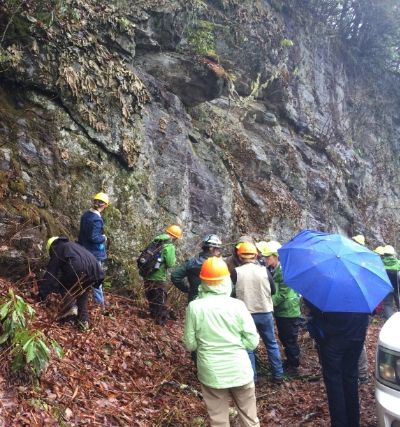 Graphis scripta
. Crustose, on bark.
Apothecia resemble writing.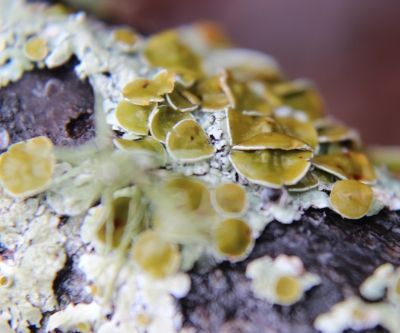 Usnea strigosa
, one of the most common and easy to identify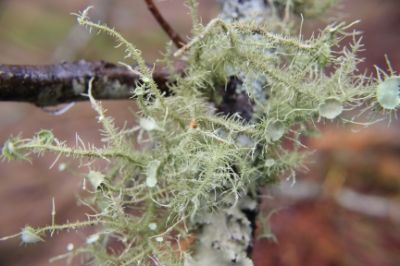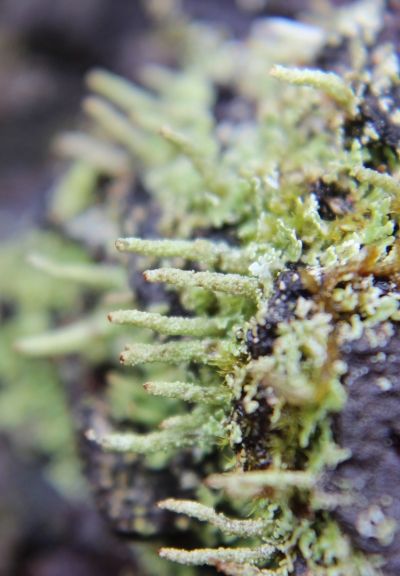 Several different crustose lichens on a few inches of stick. The black lines show chemical warfare to prevent them from overlapping each other.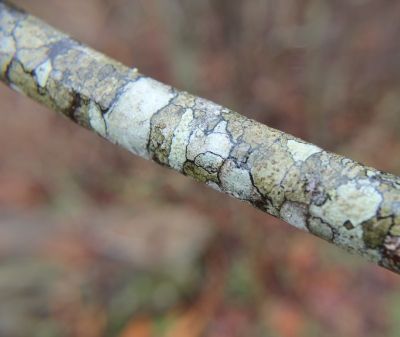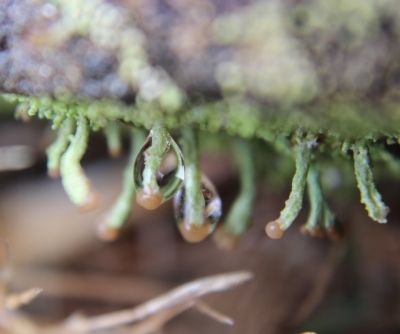 Foliose is the category of leafy lichens.
Some sort of little pixie cup lichen popping up between the moss.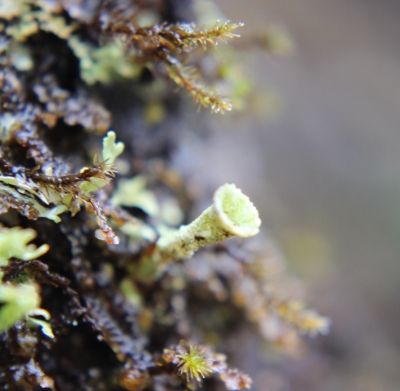 Common Toadskin Lichen,
Lasallia papulosa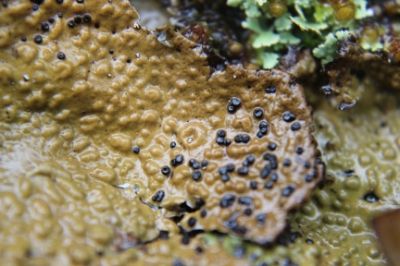 Pink Earth Lichen,
Dibaeis baeomyces. The largest our lichenologists had ever seen.
The guy in the orange hard hat is Malcolm Hodges, one of the lichenologists. There was a wide range of people on this expedition, from those who knew practically nothing to serious students to the knowledgable.
Typical lichen researcher's posture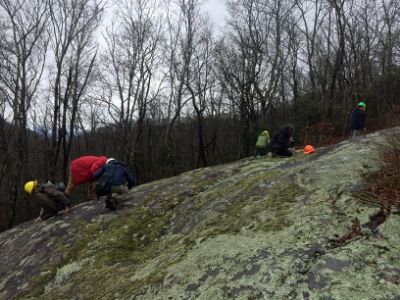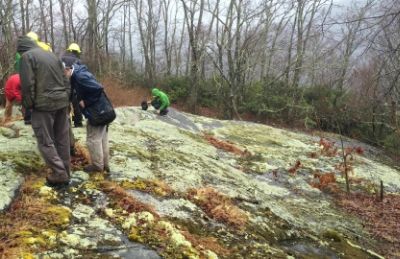 Dog lichen, a
Peltigera
species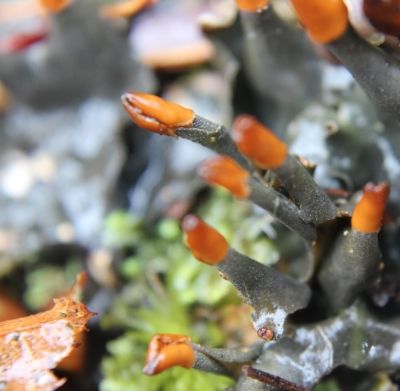 Before I went on this trip, I thought I knew this one, but it turns out there are several that look like this, all with varieties of "Soldier" names.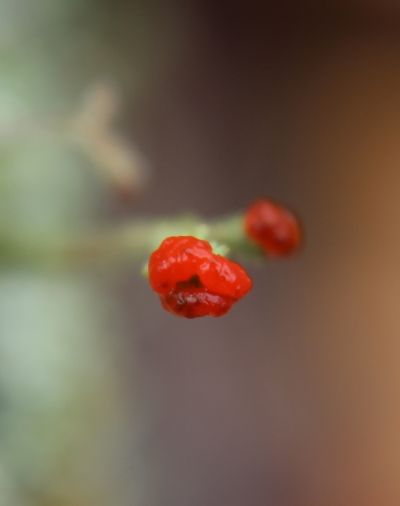 A type of reindeer lichen with moss