Tuesday, Jeremiah and I had a date. We dropped the kids off early at a good friend's house and drove to Tremont. We couldn't have asked for better weather. At the moment, it's snowing, but on Tuesday it was 73 and sunny. Perfect. So perfect.
At Tremont, we joined a more seasoned volunteer who showed us how to find and evaluate egg masses in ponds. We monitored three sink hole ponds on the Findley Cane trail.
These are spotted salamander eggs. We had to count the masses and identify which stage of development they were in. For the first two ponds, I donned chest waders while Jeremiah recorded the data I called out to him.
These are wood frog eggs. Several frogs will lay their egg masses together to form a large raft.
The jellylike mass at the edge of the pond is a raft of about 75 wood frog egg masses.
Jeremiah got to do the last pond.
He found a dead wood frog on the bottom of the pond. The large thumbs indicate that it's a male. When mating, a male will put his arms around the female and link his big thumbs together.
The white spots are a waxy substance secreted by the
hemlock woolly adelgid
. This invasive insect has killed a lot of hemlocks in the park. To counteract this infestation, rangers have drenched many hemlocks with a systemic insecticide, injected others that were near water (to prevent the chemicals from getting in the water), and released a predatory insect to control the adelgid population.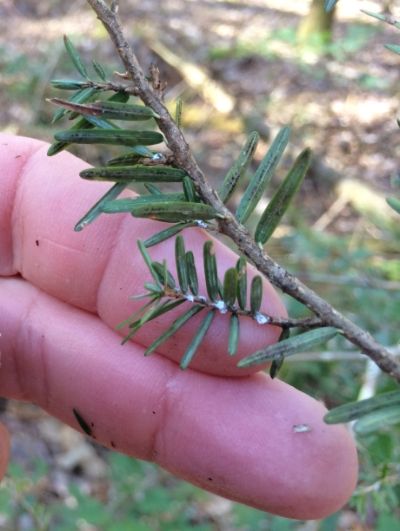 After a morning of frogging fun, we drove over near Cosby to hike the Albright Grove Loop Trail. We only had two hours to hike, so we had to move fast. (That's 2.9 miles one way.)
The trail was lined with rhododendron, not yet in bloom. This one was being eaten by shiny little beetles.
Galax
Eastern Garter Snake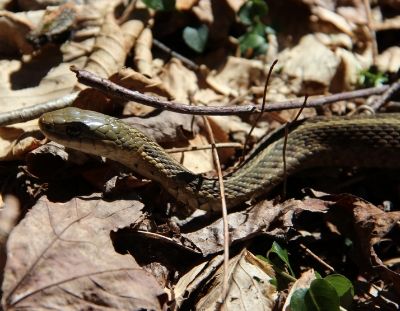 There were butterflies!! I was so happy to see them! This one is an Eastern Comma, I think. I don't know butterflies that well yet.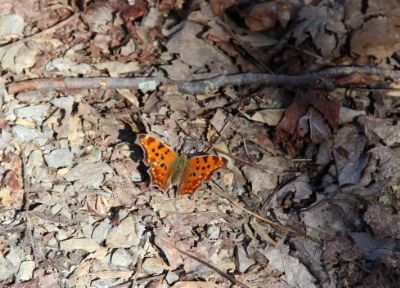 The goal of this particular hike was to see the old growth forest in the loop section of the trail. We made it to the loop but didn't go all the way around, since we were running out of time, but we did get to see some big, old trees.
A rather striking birch
The ground in old growth forests is very hummocky.
I love all the moss and ferns that grow on everything.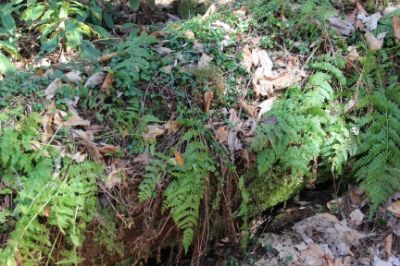 A couple of big tulip poplars. It was so nice to be able to spend the day together!