Miah and Larkin were able to go to Tremont's homeschool day earlier this week. They spent the day playing and learning outside with their friends and two of my favorite people, Dawn and Tiffany, their teachers. They were there seven hours, so I took Zahana, Rohan, and Elowen hiking.
I think we can call this Elowen's first real hike. She's always been in a backpack or stroller before. One day a couple weeks ago, she suddenly decided she wanted to walk like everyone else when we're out and about. So she walked. We went nice and slow. She collected rocks, waved a stick around, picked up leaves, and was delighted to swing these gumballs back and forth. She was so precious to watch. It was raining the whole time (but warm), and she didn't care a bit. We didn't get very far but it was a memorable walk.
Rohan found a snail.
Enjoying the green!
Rohan kept insisting that I take him to see the frog eggs. He had lots of questions when we got to the little pond.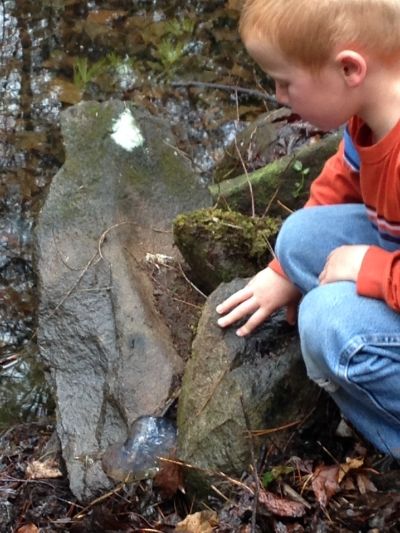 He also made sure I took pictures of his special finds so he could put them on Project Noah.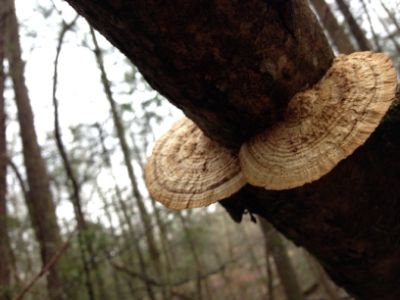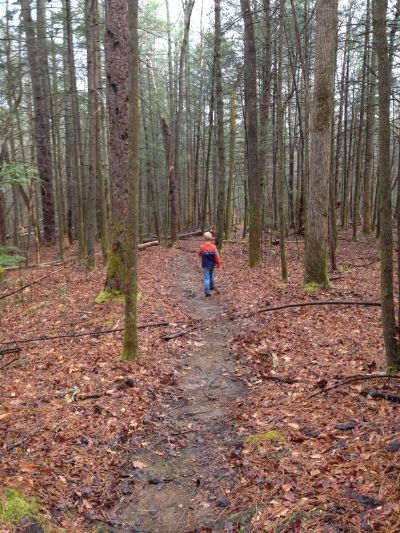 I liked these mossy buttress roots and wish now that I had also looked up so I could ID the tree.
We weren't far from Cades Cove so we drove up there for lunch.
After lunch, Elowen needed a nap, so we went for a drive up to Newfound Gap. We arrived to find that the weather had changed drastically. Cold, rainy, windy, so we didn't stay. But the kids thought it was fun that we were up in a cloud.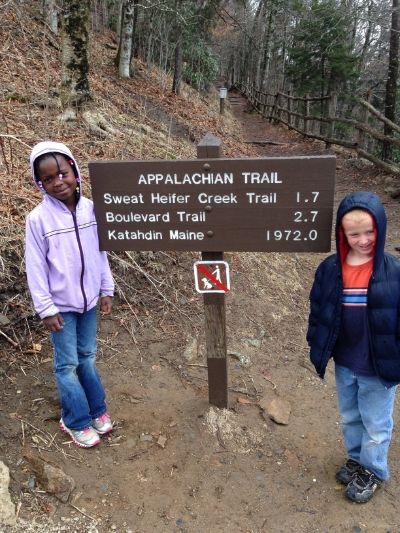 The Sinks, just a little turnoff on the road, but we hadn't seen it before.
It turned out to be a long, cold, and rainy day, but we were happy to get lots of fresh air. And Miah and Larkin had a blast.