My mom came down for the weekend, so we decided to celebrate Elowen's birthday. Friday, we had a short school day and spent the rest of the day getting ready. Larkin made pinwheels, blew up balloons, and made a gorgeous, intricate card. Miah and her friend helped make window stars, tissue paper flowers, and decorated plastic animals. Rohan helped with the balloons and making supper. Zahana helped with the cake.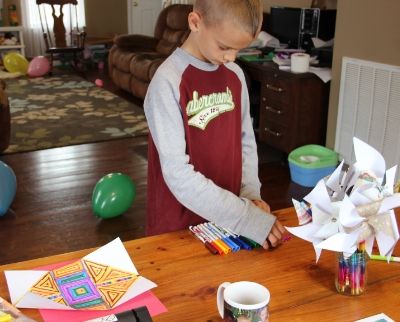 I pulled down the paper snowflakes (yay!) and now the dining room and living room are decked out in rainbows. It's so happy!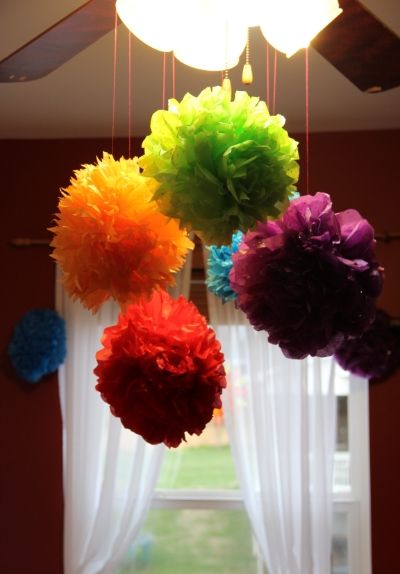 Somebody brought in some daffodils!
I had intended to make a layer cake, but both boys wanted to carry the cake to Elowen, so I just frosted them separately. Even though I made the cakes with white flour, sugar, and sprinkles, I couldn't bring myself to use food coloring.
Had
to have rainbow though, so I used
these instructions
to color the frosting. Spinach for green, turmeric for yellow, carrot for orange, beets for pink, and blueberries for purple. (I had planned on doing purple cabbage for blue and purple but ran out of time. I'd still like to try it some time though, because I bet the color is better.) I was pretty scared when I was making it. I thought everyone would be disgusted. I told Zahana we'd keep it a secret until everyone had eaten. I was happily surprised when everyone was raving about how pretty and yummy the cake was, and most people had seconds. Then Zahana told our little secret. There was some mild shock and disgust at that point, but it was OK then. The frosting, by the way, is butter, cream cheese, and maple syrup with a little raw milk - so yummy!
Birthday girl! xoxoxoxo
Everybody showed her how to blow the candles, so she did it, then said, "Uh Oh!" when they went out.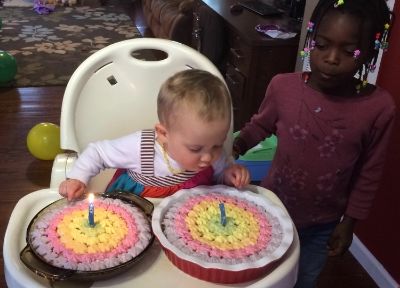 Mmmmmm!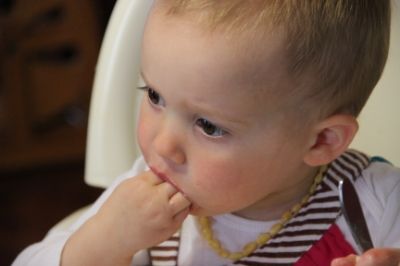 Miah's friend joined us.
Elowen really understood what was going on during present time this year and was fun to watch.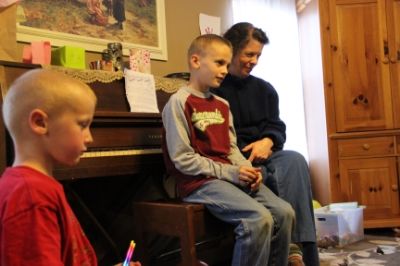 Since my mom and I have our birthdays this month too, there were lots of presents to open. I got a stack of field guides - the new Sibley Birds, Sibley tree, and flower guides specific to the Smoky Mountains. Rohan carded a rainbowy wool batt for me, and my mom brought lots of goodies.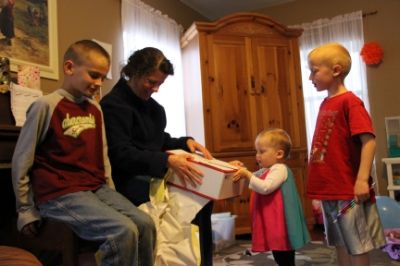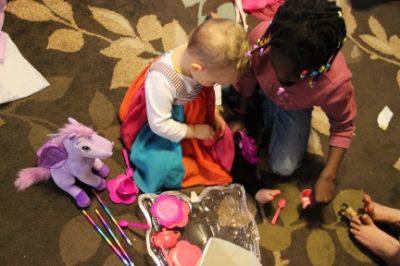 A couple neighbor boys popped in and helped celebrate, which I'm sure Elowen enjoyed; she
really
likes the little boy in red - kinda funny.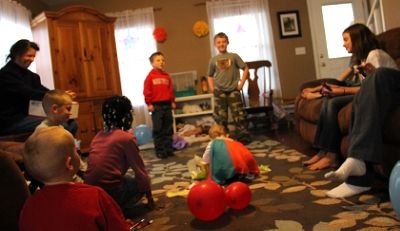 My sweet little one, love of my heart! What a joy she is!