El Salvador is known as a land of volcanoes and earthquakes. We had just been learning about earth, tectonic plates, soil erosion, etc. the day before for science, so El Salvador fit in perfectly. Zahana made a shield volcano out of salt dough. Rohan made a composite volcano, and Elowen stuck playdough up her nose.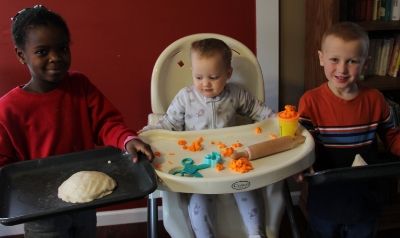 More baking soda, more vinegar, more baking soda, more vinegar....
Book, flag, map, and a
recipe
. We made atol de elote, a salvadoran corn drink.