Arlene at
Spin Artiste
has a wonderful game called Secret Stash. She puts together packages of fibery goodies and oddments, united by a common theme. The theme for Round VI was the Ottoman Empire. Everyone's package is basically the same, and the challenge is to make something out of all the items, which requires stretching your abilities and thinking outside your normal, comfortable creative box. You can pay to play or contribute to the stash and play for free. I decided to contribute some of my yarn with coils and twists. The inspiration for this yarn came from
this picture
of Ottoman tiles. I dyed some merino a couple different shades of purple and carded in some sari silk, firestar, milk fiber, bamboo, some red wool, and also tailspun in some blue cotswold locks. I named the yarn
Iznik
, a Turkish town known for
beautiful traditional ceramics
.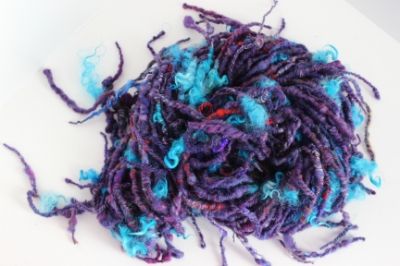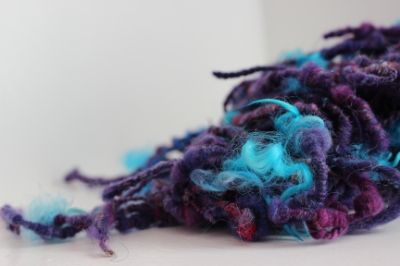 I packaged up 20 1-yard lengths of the yarn and attached a tag made with paper that was hand-dyed by my sister-in-law.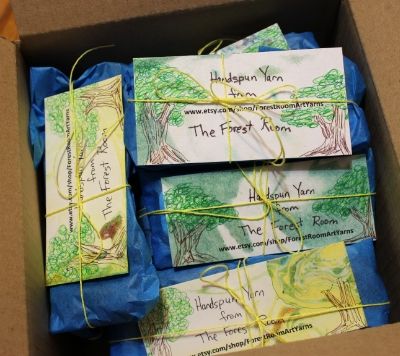 A few weeks later, my Secret Stash package came in the mail! My favorite part was the beautiful hand-painted braid from
Wild Hare
. There was also fabric from
The Naked Ewe
, hand-dyed mohair locks from
Just Ducky
, miscellaneous rovings, a pink tassel, and my piece of Iznik.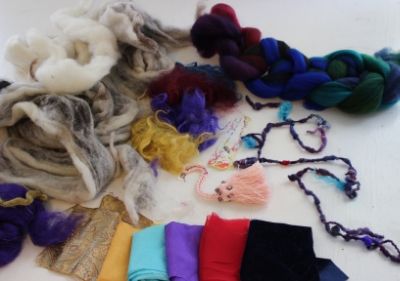 After a few days of thought, I overdyed the miscellaneous roving dark purpley blue and carded it up with the braid (hated to do that!) and a handful of black alpaca, my one free add-in.
I spun it into a single, adding in strips of the fabric. This was my first time to spin fabric into a yarn, and I didn't do a really great job. A couple pieces fell out all together and some of them were pretty loose.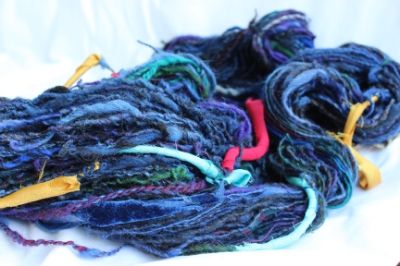 I tailspun the locks by themselves.
Two equal balls of each yarn.
Then I commenced to crocheting. I had legwarmers in mind and went with freeform. The first one turned out pretty well, then I had the extra challenge of making a second that would match! I crocheted back and forth for a while, just making a sort of rectangle, adding stitches to make it wider as I went, going back and crocheting down the sides to make it fit better. It was kind of a funny, haphazard way to go about it, but in the end, it worked.
I crocheted the locks on top, and wove my yarn into the bottom edge. The tassel was made of several smaller tassels, so I cut it apart and tied one on each legwarmer. The loose pieces of fabric were strengthened by the tight stitches.
Ta Da!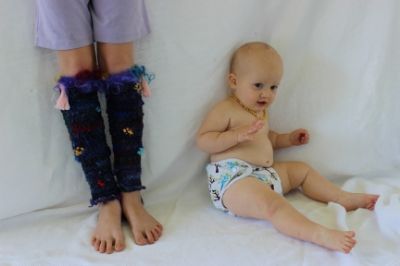 We had recently read The Hungry Coat: A Tale from Turkey, by Demi when Zahana and Rohan were
learning about Turkey
. It is based on a story about Nasrettin Hoca, and the patchy look of the legwarmers reminded me of his coat, so I named them Nasrettin Legwarmers.
The whole project was a lot of fun and did force me to do things I wouldn't normally do. In the end, I love my legwarmers and would like to participate again for the challenge.
You
have
to go check out
the other participants' projects
. There is so much incredible creativity and skill. I enjoyed seeing how my yarn was incorporated into each item. One player even used my tags!
If you like the Iznik yarn, I have another skein available in
my etsy shop
.