We wanted to try a new trail on Monday, so we drove into the Smoky Mountains. This is Calderwood Dam. Zahana was confused; she couldn't find the dam.
We drove The Tail of the Dragon for the first time. Elowen threw up on the way back.
The trail was just over the border in North Carolina. I didn't tell the kids we would be in NC, and I guess they never realized how close we are. They were so shocked when they saw the sign, like we were going to a different country or something. It was funny.
I really love Smoky Mountain Trail signs. They don't like to point out sites like falls or cascades until you're almost there, so I'm always kind of wondering if we're going the right way.
The smell of the woods was just divine, and we only passed one other group of hikers the whole day.
We found what we were looking for! However, the park website had said the cascades were 2 miles in. We were prepared for a hike. It was only half a mile.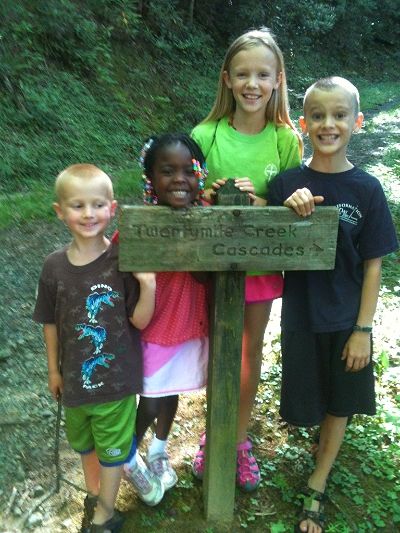 We decided we would keep going since it was such a short walk to the cascades. I had remembered seeing a waterfall on the map. . . somewhere . . .
We crossed 6 of these log bridges. The first was the worst. It was long and skinny and bouncy, and the water underneath was rushing. Miah, Larkin, and Zahana zipped right across. Then Rohan started across, holding my hand. He completely freaked out in the middle. He grabbed onto the rail with both hands and froze. And screamed. I finally talked him across, and each bridge after that was better. After a couple more, he was going across all by himself.
Stopping for a snack - fresh blueberries we had picked a couple days before.
We came to a crossroads. The sign wasn't terribly helpful. No waterfall mentioned, and I had no idea which direction to go. I let the kids pick. We turned left and kept going.
Until we got to the next sign. That was it. We'd had enough. When we got back home, I checked the map. We were nowhere near a waterfall. But we had hiked about 3 1/2 miles.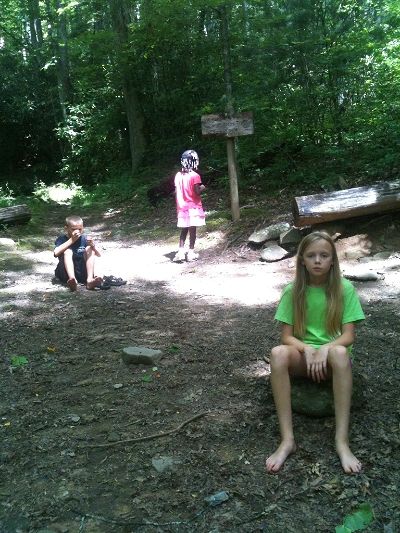 The way back was downhill, and I urged the kids on with promises of playing in the water.
Finally!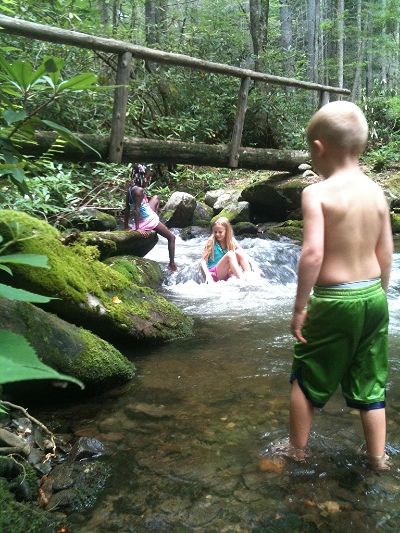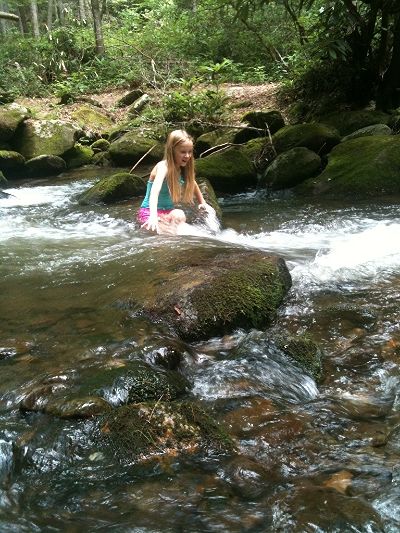 The little spot we found was so lovely, it seemed exotic, like we
had
come to a different country.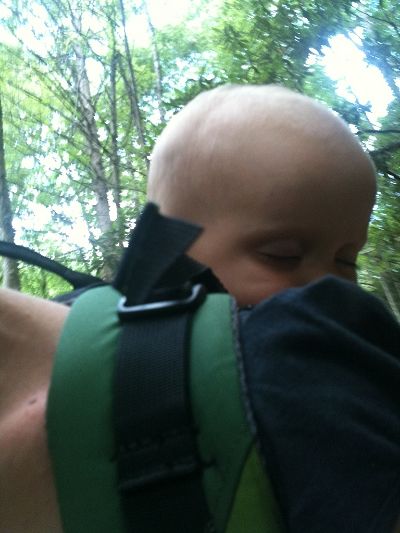 Beautiful day!