This weekend, I will be selling at my very first fiber festival!! It is the
Kentucky Sheep and Fiber Festival
in Lexington, KY. I'm praying for beautiful weather since I will have an outside booth. I have not added any new yarns to
my etsy shop
for about a month, but I
have
been spinning. For my birthday, my parents bought me a pound of the lovely
wooly crumbs
that I love, and it is all spun up now.
I separated out the blues and added some white locks and other goodies on my drum carder, then spun this into a single with curlies. (I also separated out the neutral colors and carded them together but haven't spun it yet. Kind of forgot about it.)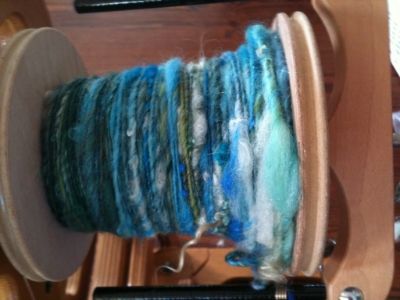 A regular 2-ply with random color selection.
Navajo-ply with what was left.
This is a a batt made of alpaca and merino that I dyed and some silk noil thrown in for texture.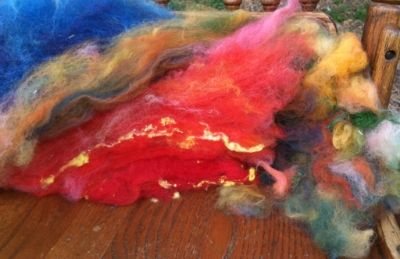 Spun into a single - seriously overspun.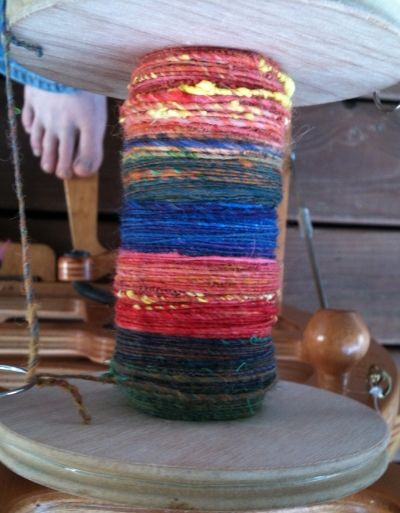 I took that kinky single and coiled it in twisted handfuls onto a thread. I'm really not sure if I'm going to sell this one. I'd like to wear it myself.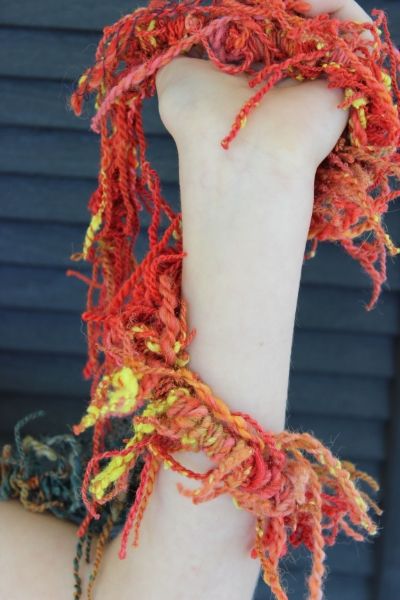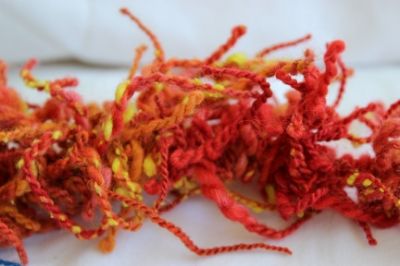 I won this sweet sampler set by
Heavenly Fiber
on the
Phat Fiber
blog. There was a luscious mini art batt, a gloriously soft fiber braid, scrumptious sock yarn, and a bit of yummy hand made soap. So fun!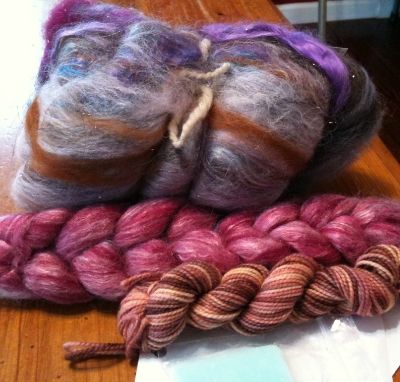 I have been wanting to try a cabled yarn (2 two-ply yarns plied together for a chain look) for a while and decided that's how I would use the braid and batt. Miah used the yarn for friendship bracelets.
I was surprised by how purple the single from the batt ended up being. I spun as thinly as I could since I just had a small amount of each fiber, so the colors really blended together when I plied them. In hind sight, this was probably not the ideal technique to use on such a little bit of fiber, but it did turn out nice. Something like corespinning would have shown off the batt better. And next time I try cabling, I'll use colors that are more distinct.
I ordered business cards. I had been making them by hand, but I figured I would need more than I could make for the festival.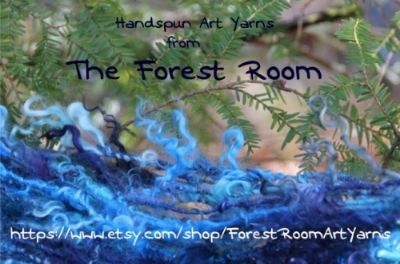 So if you are anywhere near Lexington, KY this weekend, come and see me. I'd love to meet you!