This was my booth at the festival. The first day, it kept sprinkling off and on so I had to have the tent sides and everything shoved in the back where it wouldn't get wet. On Sunday, though, the weather was beautiful, and I was able to have a more inviting setup. I wish I had taken more pictures of the other vendors and the sheep and alpacas, but I didn't. I mostly stayed at my booth. The kids had a great time running the grounds, bottle feeding the lambs, and buying honey sticks. I had so much help! I could not have done this festival without all the family there to help me. It was also fun and relaxing for me. I enjoyed it very much and look forward to next year's festival.
Miah's table. She did really great, sold some of her bracelets, a skein of the yarn she dyed, and lots of the wooden buttons she and Jeremiah made together.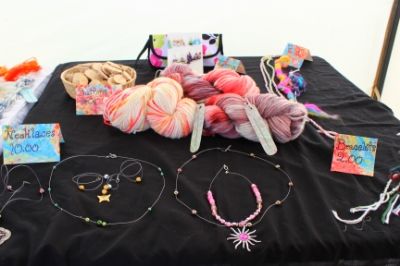 I sold eight of my yarns plus someone put in an order for another. Considering that my etsy sales for the last 4 months was 11, I'd call that a success. I enjoyed getting to talk to other fiber people, admiring their handiwork, and getting advice and encouragement. At the tail end of the festival, I finally went shopping, which was perfect, because people were ready to rid of stuff. I got some great deals, and brought home all this:
Yay! I told myself I would not buy dyed fiber, because I want to learn to dye and it's cheaper that way. But some of this stuff was so cheap, I couldn't pass it up!
2 pounds of undyed merino top from
Ohio Valley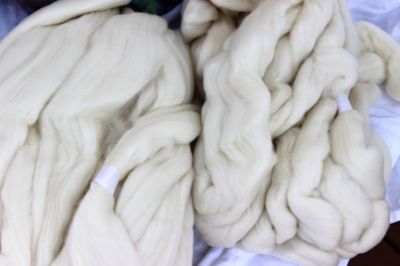 1 pound of border leicester locks
Gorgeous dyed suri locks from
River Hill Ranch
All the rest is from
Moonwood Farm
. Angelina and silk noil, a present from my sister.
A beautiful, blue bamboo braid, a gift from Miah.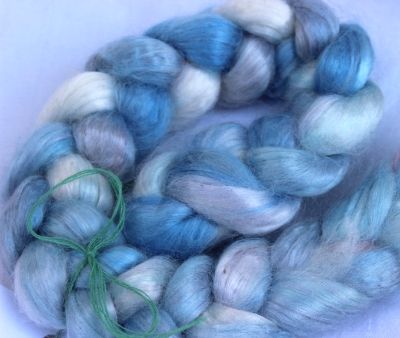 More dyed suri locks.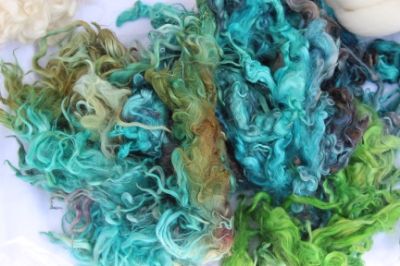 Fluff and sparkle from the bargain bin.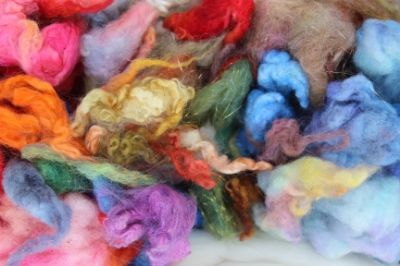 Dyed cotswold fleece.
I can't wait to start spinning!
Linking up at
Crafting On
.