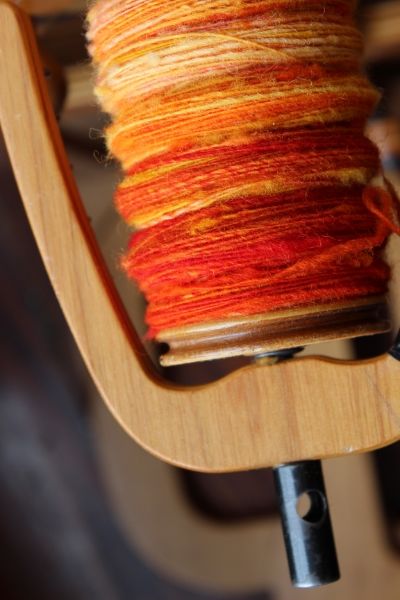 I had some hand dyed texel/lleyn fleece that I bought a while back. The colors are beautiful but the texture was less than fabulous, so I spun it up fairly thin and coiled most of it around 22 or 28 gauge copper wire. I tried coiling around 32 gauge, but the wire was so thin that it broke pretty quickly. So I tried just plying the single and the wire like a regular 2-ply. I thought it turned out pretty neat looking.
This sparkly purpley skein was made from merino that I kettle dyed then carded up with sari silk and firestar. It reminds me of the purple crocuses in our yard.
This is the cormo I bought at the alpaca show. I loved the texture and color and didn't want to lose the general appearance of the pretty, fluffy fleece, so I spun it into a gentle single with puffs and crimpy bits still showing.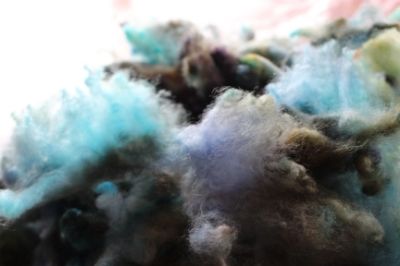 Our new chicks inspired me to make this fluffy spring skein. I used undyed merino roving and kettle dyed alpaca fleece.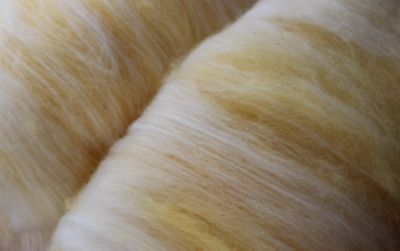 I made this tiny, sweet skein for my mother-in-law when she was here. I think it's so fun to get out all my fibers and make something with someone else.
And this last one was another spring-inspired one. More kettle dyed merino and alpaca with firestar and wool thread. I love carding up fun batts to spin. I usually do that part at night after the kids are in bed, so I don't get pictures of the batts unfortunately.