Miah and Larkin have been reading a lot of history lately. They are both working through American History (1865-2000) from
TruthQuest
. The way we have used this curriculum over the years has changed from lapbooking and lots of projects to notebooking and reading together to reading all on their own.
We have a live trap set to catch chicken snatchers, and Larkin found this sparrow caught in it the other day.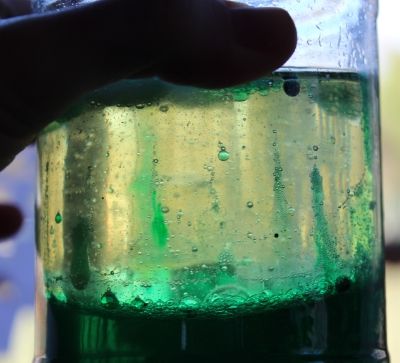 We have started using
Our Planet Earth
for science together. The periodic table is briefly introduced in chapter 2, and I decided to flesh that lesson out a little. We did some of the
PTOE experiments
and activities at 5 Orange Potatoes. I also bought the book,
The Elements
, by Theodore Gray. Everyone has enjoyed looking through it and becoming more familiar with the various elements.
We learned about Australia this week. Lots of library books, flag coloring page, map, globe,
rubbing plates
, our continent box, Wee Sing Australia, youtube videos of the didgeridoo and boomerang, and an Australian meal of
fish
,
potatoes
,
coleslaw
, and
tropical tea
. (I really liked the fish, which is saying something, because I usually stink at cooking fish.)
I tried something new - coiling with 5 strands at once. It was interesting, but the colors mooshed together more than I expected. Still, it turned out to be a fun yarn.