One of my goals for the year is to spin a yarn a week. Two weeks in, I'm right on track! :)
My first yarn of the year was a scrap yarn.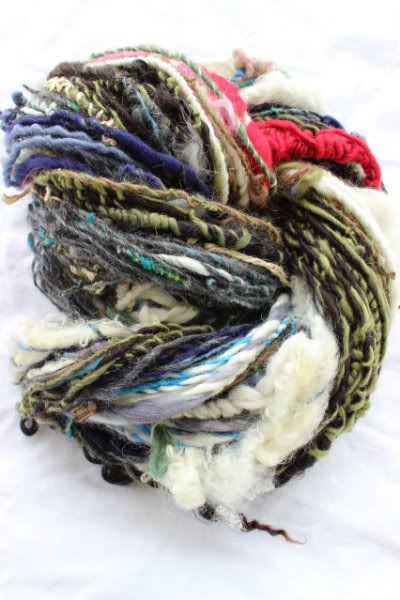 For my second yarn, Miah and I carded some batts of blue and red merino, white falkland, wool thread, sari silk, banana fiber, miscellaneous locks, gray alpaca, soy silk, and silk noil. I spun it all into a single. I had intended to do super coils, but it sat for a couple days. Meanwhile, I received Lexi Boeger's book, Hand Spun, in the mail, which inspired me to try long twists. So I ended up combining the coils and the twists.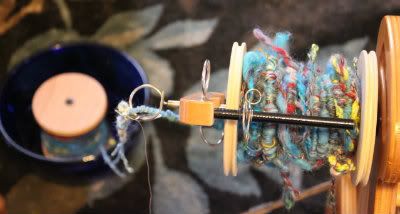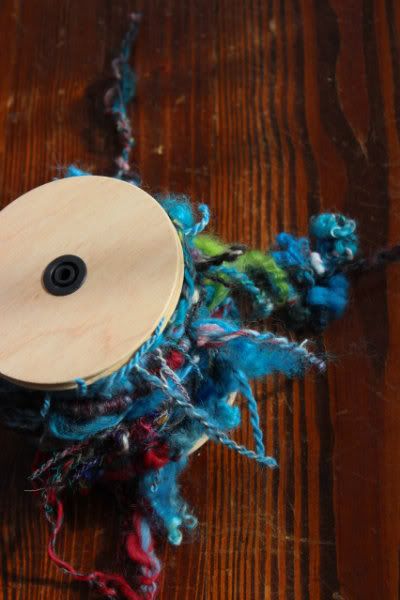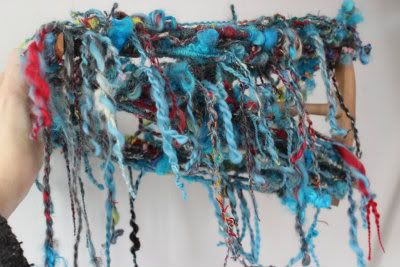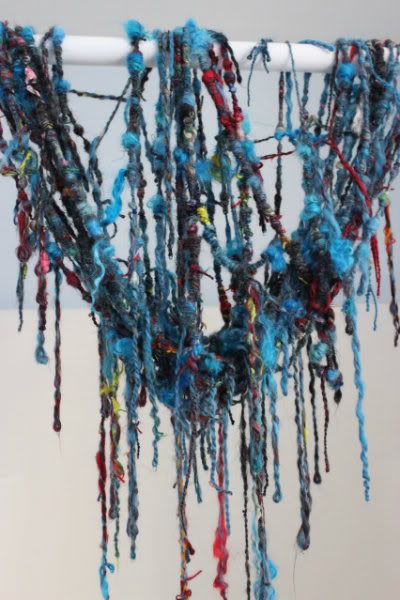 Spinning this yarn made me feel so happy and artistic, and I love the results. I can't wait to try this technique with other fibers.
In etsy shop news, I've opened my own. I loved having the shared shop to get used to the whole thing and to have less pressure in keeping the shop full. I think I am at the place now where I can consistently produce more yarn. (I think. We'll see.) My sister-in-law is going to be opening her own shop too, which inspired me to get out there on my own. We are still keeping
The Sweet B's
etsy shop open for all the things we make that don't fit into the very specific categories that the new shops are for. So if I get inspired to make and sell silks or window stars again, they'll go in the old shop. The new shop is just for my handspun art yarns. (I think. I'm kind of feeling my way.) Miah's yarns and jewelry will be in the old shop too.
So, if you'd like to take a peek at my very own, brand-new etsy shop, here it is:
Forest Room Art Yarns
.
Along with spinning a yarn a week, I also plan to list a yarn a week in my shop. So check in often for new yarns.
Linking to
Fiber Arts Friday
and
Creative Friday
.