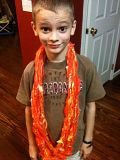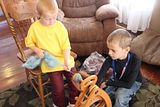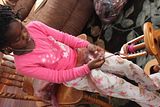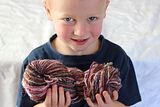 The kids have been spinning. Or trying to spin. Larkin did a great job spinning his orange batt. It was a lot easier for him than spinning from the top. Then he helped Rohan make a little blue skein. Rohan was very proud of his yarn. He thinks he spun it. He tried, but Larkin ended up spinning about 95% of it. And Zahana tried too. She was very, very patient and persistent but wasn't able to get anything on the bobbin. The last picture is my yarn-of-the-week from last week. It's corespun. I was very slow at it.
My parents came down for a visit, and we played with the drum carder.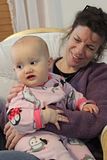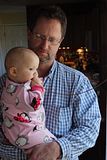 My mom making a batt and the yarn I spun from it.

My mom teaching Miah to crochet a flower. She picked it up so easily!

My dad's batt and the yarn I spun from it.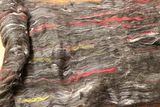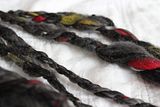 Random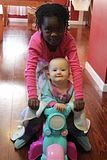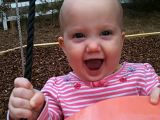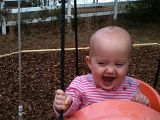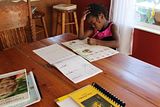 We started back to our co-op classes this week. I'm teaching three with Elowen as my helper, and we are there all day for the first time. My first class is sculpture. Miah and Larkin are in that class. We learned about Alfredo Giacometti and made aluminum wire sculptures. Then I teach Math History using lesson plans from livingmath.net. Also for Miah and Larkin. Then a class for Zahana and Rohan which is a celebration of the seasons with crafts, fairy tales, and science fun.

Miah and Larkin are also on the math and science team, in a human body class, and in lego club. Zahana is in a book writing class, ballet, and lego club, and Rohan is in Letter People class and lego club. A very full day!