So, this year I have two kindergarteners. Sort of. I thought it would work out nicely to have Zahana and Rohan working together like Miah and Larkin work together. But Zahana and Rohan are not Miah and Larkin. They are not on the same level, even if we call them both kindergarteners. Even though I didn't formally or officially (or really at all) do school stuff with Zahana last year, she's really more like first grade level. Technically, with her November birthday, she's supposed to be in kindergarten this year. But she taught herself to read already, and her math skills are increasing rapidly each day. In her activities outside of home, sometimes she goes with the kindergarteners and sometimes with the first graders, just depending on the activity and where her friends are.
Rohan, on the other hand, is technically (since his birthday falls on the cut off date) supposed to be in kindergarten this year, and that's what he's registered as. But really, he could probably benefit from another year or half-year of preschool play. In his outside activities, sometimes he's with kindergarteners, sometimes with preschoolers. I'm so glad I don't have to stuff either of my children into a mold they don't fit into. I can give Zahana what she needs and give Rohan what he needs. Still, that means more figuring-out-how-to-do-it-all for me, which can be stressful, but usually, I just see it as a challenge, something to stretch me. Something to make me think, be creative, and not get lazy. And also to fall back on the advice that I like to give: it's kindergarten; don't make it too rigorous or boring. Let the kids have fun and love learning. Don't burn them out the first year! Yeah, well . . . saying it is one thing. Doing it is another. But I have learned from past mistakes with the other kids. I have seen how kids develop when they are ready. They really do! I have to reread articles like
this one
, and just keep going little by little, day by day.
Here's a few snapshots from our "kindergarten" days. Or whatever you want to call it. :)
Making numbers from playdough.
Ordering number cards.
Dot-to-dots.
Sister love.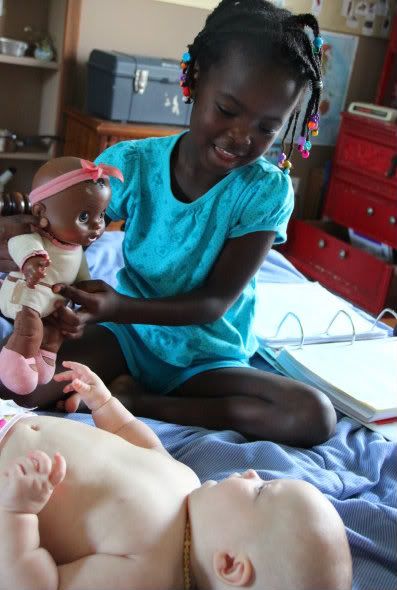 Writing in salt.
Working with Montessori beads to learn place value.
Made up science experiments.
And last week's geography lesson: Liberia.
Playing
Queah
. You can see our flag poster in the background - found it at Wally World.
Paper people.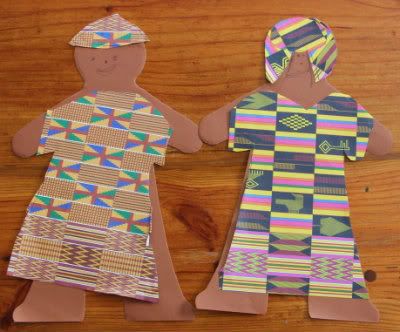 Animal collage.
Making
jollof rice
.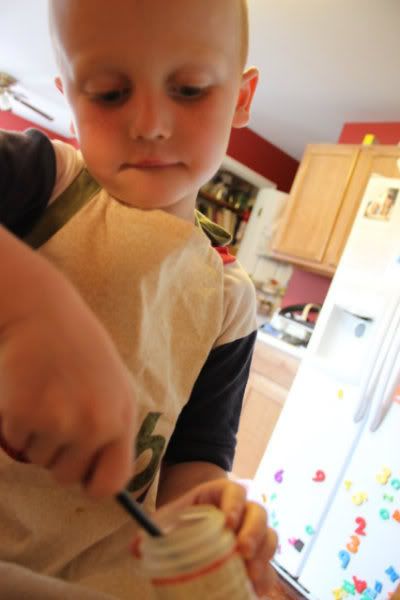 My happy helper.
Mmm! Watermelon!
Rohan is working on learning to count, recognize and write numbers and letters, and say the alphabet. He is doing well in his
Language Lessons
and especially loves listening to the poems. He also really likes looking at books and being read to. I am reading through the
kindergarten booklist
from
Ambleside Online
. Right now, they are loving the original Winnie-the-Pooh stories. I'm using
Dr. Wright's Kitchen Table Math: Book 1
for both kids, each at his own pace.
Zahana is learning to tell time, all about place value and reading 2- and 3-digit numbers, addition, subtraction, and writing numbers. She reads to me and does
Language Lessons volume 3
. She recently finished
Life of Fred: Cats
, but we're taking a break from that right now.
So that's what kindergarten looks like for us. Today. It will, undoubtedly, change. I'll keep you posted.