For myself and those who like details:
Elowen Star was born 17 days before her due date at
Lisa Ross Birth Center
with a midwife. This was my first natural birth, and it was nothing like I expected. I was expecting to have a lovely birth story to share, like all the ones I've read. Instead, it's taken me a week just to process the birth and get up the nerve to share what really happened. It's not flowery. It's realistic.
Tuesday morning (April 3rd), I started showing signs of impending labor. I started rushing around trying to finish up things. As my
post of that evening
showed, I was mostly ready. But would she come soon or did I still have a few days to wait? That night I woke up every 15 minutes or so with contractions, but they felt pretty mild. Some time during the night, I had a snack and moved to the recliner in the living room, because I felt better sitting up. Still, I was falling asleep between contractions and by morning they were coming less frequently.
Wednesday morning (April 4th), I went about things as usual. I had a regular appointment at the birth center in the afternoon. Jeremiah dropped me off at my appointment and went to run some errands. The nurse asked how I was feeling. "Like having a baby," I said. She thought I was kidding. I wasn't. The midwife asked the same question when she came in and got the same answer. She also didn't take me too seriously until she found out I was dilated 4cm. Then she thought I could possibly be serious and told me to come back in three hours to see if I was progressing. (This second appointment and even that I had an appointment at all that day was providential. Otherwise, I'm sure we would not have made it to the birth center in time for the birth.) But she also told me to go ahead and make an appointment for next week, just in case. The receptionist making the appointment was having a hard time deciding which midwife to put me with next week. By this time, the contractions were more frequent, and I was tired of standing there waiting, so I said, "It really doesn't matter. I'm having this baby tonight." I guess she thought that was funny, but she gave me the appointment card. So we went home, gathered up our stuff and packed the kids an overnight bag for staying at a friend's house. I heated up some liver I had cooked the day before and made one of my favorite green drinks. I felt like it took me forever to make that drink. I had to keep stopping to have contractions, and I could not get the limes to juice and people kept coming in and out the garage door and leaving it open (which makes the house stink). I was getting cranky, and if the juice didn't start coming out if that lime, I was going to cry. Finally I got it made and went to sit in my pretty white room to relax - on a towel, just in case. Jeremiah, meanwhile was cleaning the van and the kitchen. I went to refill my glass, and he had thrown out the rest of the liver and green drink. Now I did start to cry and told him we should just go on back to the birth center now. He told me he would make another drink, so I went back to the bedroom to wait. When he brought it to me, I told him I was ready to go back now. He said OK, and then went to make the kids a meal! It wasn't even mealtime, and I was really starting to be frustrated with the fact that nobody believed I was really in labor. So when the kids were done eating, we left. We dropped the kids off at a friend's house. I asked Jeremiah to call a couple people to tell them what was going on. He wanted to wait until we got there to see if the midwife thought I was really in labor. Errg! I said something along the lines of being perfectly capable of telling him whether I was in labor or not, and he made the calls, though I'm still not sure he was convinced.
That ride to the birth center was much longer and much bumpier than I ever remembered it being. When we hit traffic, I started to panic a bit, but Jeremiah totally bypassed it and barely slowed down. I guess by then, he believed me. When we got there at about 5:30, I managed to get out of the van and into the building between contractions but had to stop in the hallway and lean on Jeremiah, who by now was being totally supportive. I asked for the bathroom, but when I went in I just stared at the toilet. Seriously, it was the shortest toilet I'd ever seen and went back out and asked for a bigger toilet. No luck. Apparently I was the only one who thought getting on and off that toilet would be a problem. But I did (get on and off) and went to an exam room to be checked. I wanted to know why we had to be in that room first -
I
knew I was in labor. Turns out I was 8cm with a bulging bag of waters. Guess what - I
was
actually
in labor! Woohoo! There were two labor rooms to choose from. Jeremiah went ahead of me and started putting our stuff in the bigger room. I found all the red in that room disturbing and went in the other room, which was brown. So Jeremiah moved our stuff and I went to sit on the toilet again, which appeared to me to be a normal-sized toilet. A couple contractions there, and I called Jeremiah in the bathroom to stand with me. A couple more and I called the midwife in , because I felt ready to push. But I had a dilemma. I didn't want to get up, but I didn't want my daughter to be born on the toilet. Thankfully,
thankfully
, she convinced me to get on the bed, even though some babies had been born right there on the toilet. As soon as I got on the bed and got myself in what I thought would be the ideal position, I was fully dilated and my water broke. To me, it was like a massive ocean wave splashing out. Good! This baby was on her way!
Now, up to this point, things had progressed amazingly easily (which may explain why I had a hard time getting anyone to believe me.) I had feared that getting fully dilated would be long and hard and I would want to give up and go to the hospital. But it all felt manageable and I felt totally sane and in control. (Although Jeremiah's version up to this point sounds more comical and less sane. "Touch me! Don't touch me! I don't want to have a baby on the toilet! I don't want to get off the toilet!")
The next 10 minutes, however were not manageable and I did not feel sane or in control. I felt like I was going to die. It makes me think of those guys in the Civil War who got their legs sawed off while they were still awake. I am so, so thankful I was on that big bed and not on the toilet or a skinny hospital bed. I am so thankful that I was surrounded by Jeremiah and the midwife and nurse. I'm so glad I wasn't hooked up to any cords or IV's. Despite feeling like I was going to die, I knew I wasn't. I knew this girl was coming fast and it would soon be over. Sure enough, she soon burst into the world (at 6:05), all at once, and they put her on my belly. It took me a few minutes to process and breathe and acknowledge my little one. I was expecting something closer to instant euphoria at this point, but it was more like a very gradual ascent. But an ascent it was, and when she looked up at me with those blue eyes, brand-new to the world, and smiled, everything was OK.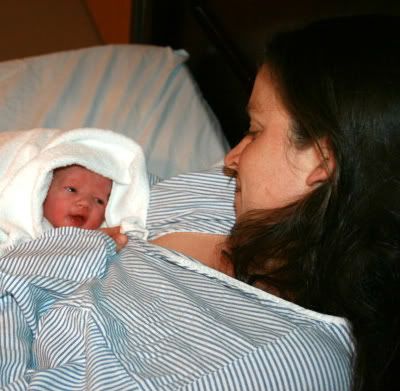 Come, thou Fount of every blessing,
tune my heart to sing thy grace;
streams of mercy, never ceasing,
call for songs of loudest praise.
Teach me some melodious sonnet,
sung by flaming tongues above.
Praise the mount! I'm fixed upon it,
mount of thy redeeming love.

Here I raise mine Ebenezer;
hither by thy help I'm come;
and I hope, by thy good pleasure,
safely to arrive at home.
Jesus sought me when a stranger,
wandering from the fold of God;
He, to rescue me from danger,
interposed his precious blood. 

O to grace how great a debtor
daily I'm constrained to be!
Let thy goodness, like a fetter,
bind my wandering heart to thee.
Prone to wander, Lord, I feel it,
prone to leave the God I love;
here's my heart, O take and seal it,
seal it for thy courts above.