Yesterday was a great day at church. After Sunday School, the worship service, and lunch, we listened to a highly educated man from England speak on creationism for three hours. Besides the fact that creationism is one of my favorite subjects, I found the meeting very encouraging spiritually, as the man easily slipped from teaching to preaching.
Today we had Monday Fun. Last week Miah made hair clips in her Girls Craft Club.
Today she made headbands. She's also been working on a secret Valentine's Day present.
Larkin's been asking to go to the pet store with his money, so we went today after co-op. Each of the kids bought a fish, and Larkin also bought a fire-belly toad. I enjoyed watching the kids interact with the pet store guy. None of them acted a bit shy, and the guy answered all Rohan's questions about crickets and advised Larkin on the best choice of fish based on what he already has in his tank.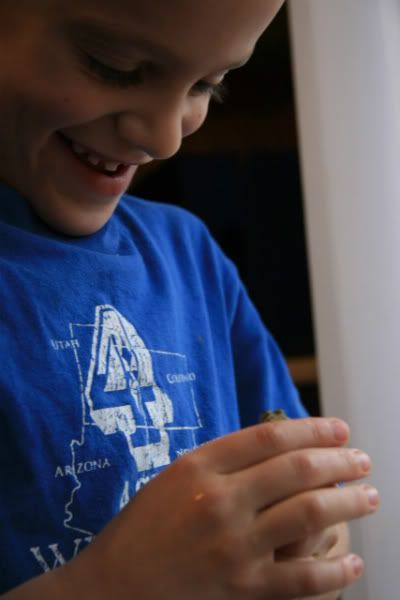 We also stopped at the library to pick up some more books for Larkin. He finished his last two Thornton Burgess books in three days, so this time he got five hoping they'd last him the week.
At home, we started making Valentine's. I looked at a lot of cool crafty stuff and finally decided to go as simple as possible. I cut out a bunch of hearts from cardstock, set out the craft supplies, and told the kids to go at it.
Rohan spent most of the time fascinating himself by mixing colors.
Zahana's favorite was the glitter (not surprisingly.)
Miah preferred writing out messages.
And Larkin especially liked the potato stamp.
Meanwhile, I cooked supper and told myself the kids were able to be more creative without a specific plan and me to direct them. ;)
What do you think?
Larkin brought out a geography game I bought at a used curriculum sale but we never sat down to learn. He loved the little map pieces and spent a long time arranging and studying them.
Lately, I've been sending the kids to bed an hour early and letting them read before they turn out their lights. They like it so much that they actually complain when I don't send them to bed early enough to read for a while first. Since I seem to be getting tired earlier and earlier, the arrangement works nicely for all of us.