Our homeschooling looks quite a bit different now than it has in the past. The main focus for Miah and Larkin is to work more independently. We have time all together for Bible study, spelling, and history. Then Miah and Larkin work on math, grammar/writing, and daily devotionals. They each also have special projects to work on. Miah has
Artistic Pursuits
or her own drawing. Larkin is working on a rainforest project of his own design. As they finish each assignment, they bring it to me for immediate correction.
That leaves me with more time for Zahana and Rohan. Along with some math and reading, I've decided to alternate weekly units of science and geography. Zahana requested we start the first week out with astronomy. It was lots of fun for me to see how excited and interested Zahana and Rohan were over everything. I took a lot from Miah and Larkin's
year of astronomy
, but found some new ideas too that were more suitable for preschoolers. Along with all the books we read, here's what our week of preschool astronomy looked like:
Monday
Zahana knew I had bought a freeze-dried ice-cream sandwich (astronaut food) and we weren't going to get anything else done until she had that, so we started with space exploration.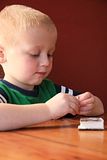 Space letters coloring page.
We did a few simple experiments from Astronomy For Every Kid.



We watched some youtube videos (via The Homeschool Den) of astronauts and learned about gravity. This was a fascinating topic for them and they talked a lot about it.
Bunny Hopping on the Moon
Astronauts eating, living, moving
How to Use the Toilet in Space

Tuesday - The Sun
Despite the bit of snow on the ground, the sun was out. We melted butterscotch chips with a magnifying glass, made sun tea, and construction paper sun prints. We practiced revolving around each other like planets around the sun, did a few other experiments, and I bought our very first prism ever.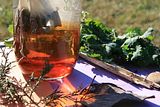 Wednesday - The Moon
We made marble paintings which were for cutting into the shapes of the moon's phases. And we made
moon pudding
. It was also easy for us to observe the moon and stars throughout the week since it gets dark so early.
Thursday - Stars
I still had the foil constellations Miah and Larkin made, so we looked at those in the closet and did some experiments which turned out to be duds.


An easy, successful experiment was drawing chalk stars on an umbrella and then using it to demonstrate how our view of the night sky changes.

Constellation dot-to-dots

Friday - Planets

A vinegar and baking soda volcano for Mars and butter volcano for Venus. Making a swirling storm for Jupiter.



Making craters in a playdough Mercury. An underwater volcano (for just another volcano demonstration.)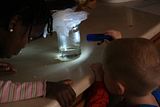 Making clouds for Neptune. A solar system model.

Saturday was baking day, but Zahana kept asking for more astronomy. So I guess that meant the week was a success. Better leave them wanting more than wanting less.