"Ethiopia didn't just blow my mind; it opened my mind."
Bono
I have been looking forward to doing geography lessons with my younger two for a year or two. I had been planning on starting the lessons when they start kindergarten, but I decided I want to get used to doing lessons with them before the new baby is born.
We started this week with a country that Zahana and Rohan are already familiar with, Ethiopia.
Monday
We started by watching this
Video of Ethiopia
and praying for the people of Ethiopia.
We read lots of books throughout the week, cuddled under the blanket Jeremiah had specially made while he was in Ethiopia. (Beds are smaller there, so he had to ask that a larger one be made to fit our bed.) Some of our books were from the library and some we own. A good place to find Ethiopian books and products is
AmharicKids.com
.
I printed off some
Coloring Pages
and pictures of Ethiopia to cut and glue.
Wednesday
Africa Geopuzzle
Philip and the Ethiopian
lesson
. We used the felt board instead of acting out the story. For the scroll, I printed out the words of the Ethiopian when he wanted to be baptized: "I believe that Jesus Christ is the Son of God."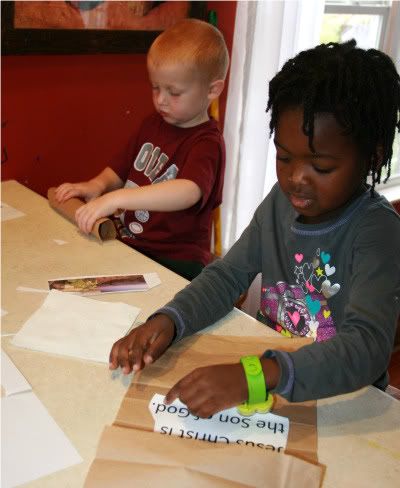 Thursday
Ethiopians celebrate two major holidays in January. One is
Ganna
(Christmas).
To celebrate, we played a game called ganna, which you can read about in the above link. It's like hockey; the kids used brooms and a balloon.
We also played mancala . . .
and a
rock game
. Well, we
tried
to play the rock game. The little girl in the video makes it look a lot easier than it really is.
For lunch we made injera, beef wat, and coffee. I read this
article about coffee
to everyone. (Rohan is mixing the spices. Zahana is chopping the onion, but it is burning her eyes so she keeps closing them.)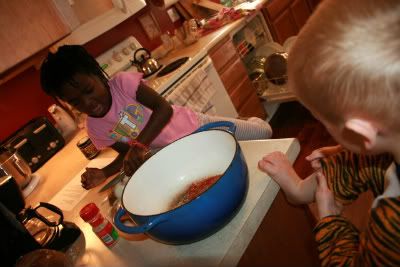 The kids dressed up in white. According to tradition, the wise man who carried the frankincense was Ethiopian, so Rohan was our little Ethiopian wise man carrying frankincense (found at health food store, very cheap.) The other kids carried candles, and they all sang Silent Night in our little Ganna procession.
Friday
The second January holiday celebrated in Ethiopia is Timket, which you can read about in the above Ganna link.
Sometimes children receive a gift of clothing for Timket, so I bought white t-shirts for Zahana and Rohan to decorate with an Ethiopian design, which I found on this
Art project video
(the design is around 2:20, but the whole video is worth watching for ideas.)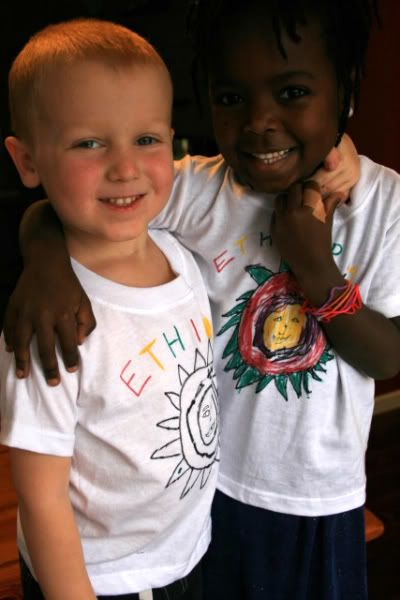 Playing yeferas guks. This time the brooms are horses and the foam swords are lances.
The story of Jesus' baptism, which is the purpose of the Timket celebration.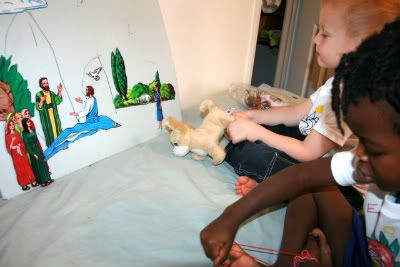 Dancing to Ethiopian music (youtube.)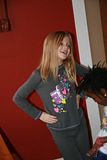 We concluded the week by making some
cookies
out of teff, the grain grown in Ethiopia. It is very tiny, as you can see (compared to wheat.)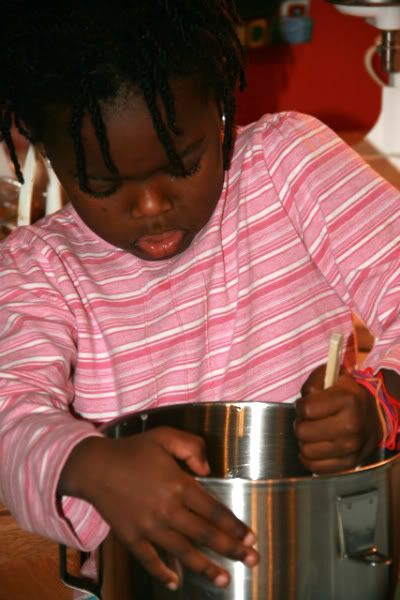 "Ethiopia confounds every expectation. You arrive expecting a vast featureless desert and instead find yourself overwhelmed by majestic landscapes and climatic abundance. You expect a land which has been ravaged to the point of ruin by years of civil war, and instead you find close to the best civil amenities in Africa and almost no obvious signs that a war ever took place. You arrive expecting to see human degradation and abject poverty, and instead find yourself immersed in a culture besotted which itself and its history, and marked by a sense of unforced pride that is positively infectious.
" ~
Philip Briggs