January is always the most exciting month of the year for us. The gorgeous weather makes for such exciting outings and beautiful photography, as you have surely noticed. We have an abundance of gray clouds and rain, which of course gives us plenty of mud. None of the fussy white stuff for us!
OK. OK. In truth, we would love some snow, but it's really not so bad. We get lots of downtime and time together. We're not yet running around being busy. January is a month to relax, and I have, over the years, learned to deal well with the weather and not get down in the dumps about it. I just try to focus on what is good right now and remember that the sky
always
brightens up after a few weeks. Most of all, I simply
refuse
to be depressed by January. I know it sounds like I'm oversimplifying things, but really it was a definite decision I made two years ago, after moping around for the month. It's sort of a live-in-the moment, be-happy-with-today kind of attitude, because if I count up how many days of gray skies we've had or how many days until spring, it just doesn't help anything.
So, anyway.
Without further ado.
Presenting . . . . . . . . . . . . .
Our most exciting photographs of the week!
Working with numbers.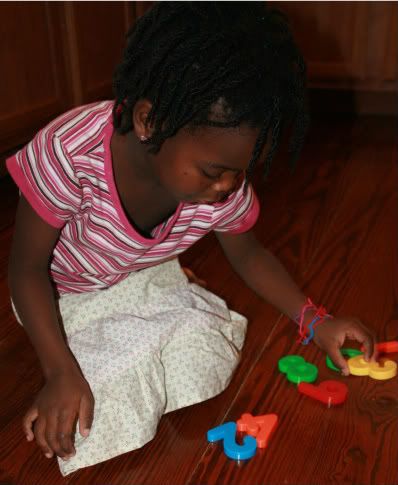 Clay play.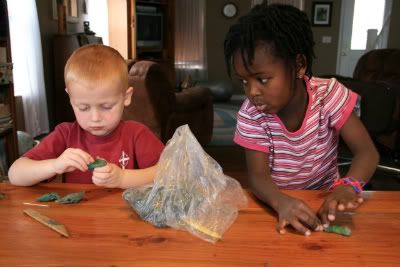 Zahana's
Girl Picking Apples.
Trying to make something that floats.
New playdough! Miah's creation.
A discovery! Miah found Civil War paper dolls in the garage!
And Zahana found a phonics workbook and spent about an hour on it this morning.
Learning
ballet positions
.
"The shortest day has passed, and whatever nastiness of weather we may look forward to in January and February, at least we notice that the days are getting longer. Minute by minute they lengthen out. It takes some weeks before we become aware of the change. It is imperceptible even as the growth of a child, as you watch it day by day, until the moment comes when with a start of delighted surprise we realize that we can stay out of doors in a
twilight lasting for another quarter of a precious hour."
- Vita Sackville-West