Larkin is pretty much obsessed with his cub scout book. He carries it everywhere, and reads it every chance he gets. This morning he had to tape it up, because it's falling apart.
This past week, he's been working on some of the belt loops.
Art.
Marbles.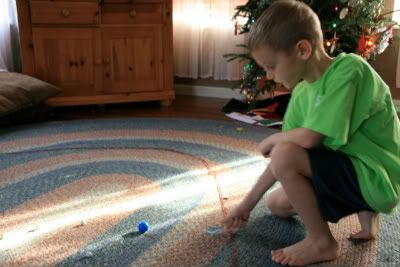 And Citizenship.
Miah has not been obsessed with American Heritage Girls. She loves going to the meetings, but hasn't been interested in earning any badges this year. But she finally decided she was ready, and picked out the cake decorating badge. She earned this one as a Tenderheart, but as an Explorer, there are more requirements for each badge. She has been working really hard and was able to do most of it herself with just a bit of direction from me.
Here she is making a cake, reading the directions, finding the ingredients, measuring. She didn't actually have to make a cake for the badge, but it's kind of hard to decorate a cake without a cake to decorate.
She had to make icing and play around with the consistency. Here she's piping a design on top.
Then she made drop flowers. She had to make two batches of frosting to have enough to do everything, but she stuck with it.
I think her cake turned out beautifully. Next up: learning to frost a layer cake . . .
Miah and Larkin made some crystals earlier in the week with a kit from Hobby Lobby. Zahana asked to make some too. I had planned on making
borax crystal ornaments
for our co-op Christmas party, but we missed that, so I just happened to have the perfect thing for her to do.
These were really wonderful. We are used to waiting days or weeks for crystals to form (and we've tried several different kinds). These made nice thick crystals in about 3 hours. Perfectly satisfying for little kids.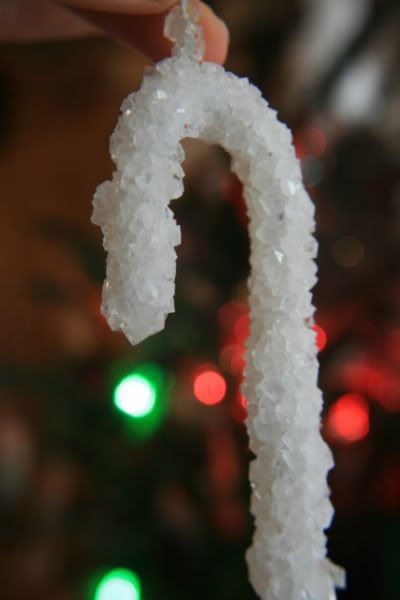 While we waited for the crystals, the kids asked for bubbles. So we made
bubbles
and Zahana and Rohan played with them in the tub.
Yesterday morning, I asked the kids what they wanted to do for the day. Zahana and Rohan said they wanted to go to their animal class at Monday Fun. I suggested we have our own animal class (since it wasn't Monday and classes are over for the semester anyway.)
"Yes! We can learn about elephants and hippopotamuses and lions and giraffes and . . . " So African animals it was. We went to the library and found some books to read together. And Rohan was very insistent that we
make a giraffe
. So we did.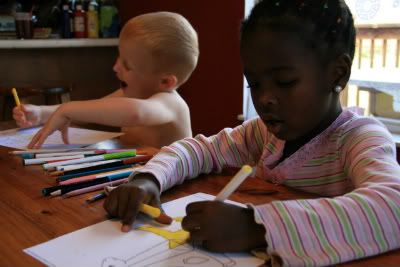 I love this time we have to do what they really want to do. It reminds me that, when we started out, one of my reasons for homeschooling was that each kid could have an education tailored to his own interests, strengths, and needs. Wow! Where did that idea go?! I've gotten a little bit hung up on what I want to do with them, which has definite roots in what I would have wanted for myself. That's not exactly the way I should be doing things.
So I'm grateful for this time to step back and analyze what we've been doing and where we will go from here.
Step by step, that's how this goes.
"I also learned that the kids who turned out best had high parent involvement and individualized instruction. Sounds like interest-led learning to me."
"My mantra throughout the years has been 'maintain the joy of childhood and the joy of learning.' Life is an endless fascination. Let's capitalize on it."
~Jena @yarnsoftheheart.com
Oh yeah. that "joy of learning" thing. I kinda forgot about that one too.
Time to get back on track.