Larkin had his first birthday party with friends this year. He usually wants to celebrate with family when we go up to Kentucky for Christmas, but this year he wanted to do things differently.
Zahana helped make the army guy cake.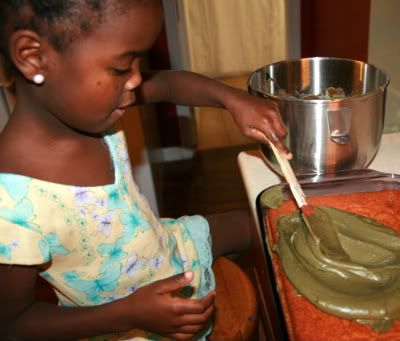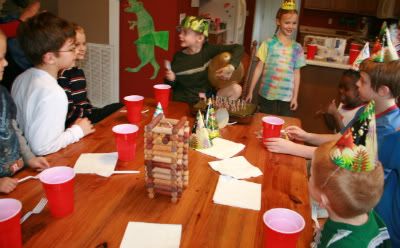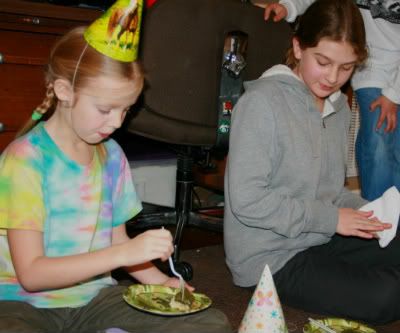 He had lots of fun with his buddies and took advantage of all the attention by being a complete goofball. My boy is full of extremes. He's not halfway or sort of or a little bit. He's very indecisive, very bossy, very boy, very focused, very smart, very sensitive, very thoughtful, very helpful, very fun, and very, very affectionate. Verily. He loves anything to do with the rain forest, loves being right, loves constructing, loves bugs and rocks and ocean critters, loves chess and any type of battle game or book or talk, loves boy scouts and his family.
And I love him.
As my kids grow and develop, I see a little part of me in them that I can connect with. Oh I see parts of me in them that I
do not
want to see, for sure, especially in this one, but they each seem to have a part that I really
get
. I'll never be into his battle games or boy scouts or constructing, although I love seeing him so into them and love helping him or encouraging those interests, but his love of science I can totally connect with. I can have fun with him and be fascinated right along with him. I can connect with
him
. I can understand the way he thinks or why he's so intrigued.
I thank God for this boy, my Larkin. I thank Him for the opportunity to really know my son, to be able to see him and teach him and love on him every day. I thank God for the person He is making in my son, for the plans He has for him, for the relationships He is growing in him. And I pray that God will continue to grow him in wisdom and knowledge and stature and use Larkin for His glory, now and his whole life.
"My son, if you receive my words, And treasure my commands within you, So that you incline your ear to wisdom, And apply your heart to understanding; Yes, if you cry out for discernment, And lift up your voice for understanding, If you seek her as silver, And search for her as for hidden treasures; Then you will understand the fear of the LORD, And find the knowledge of God. For the LORD gives wisdom; From His mouth come knowledge and understanding; He stores up sound wisdom for the upright; He is a shield to those who walk uprightly; He guards the paths of justice, And preserves the way of His saints. Then you will understand righteousness and justice, Equity and every good path." Proverbs 2: 1-9