While waiting for Grandma and Miah to arrive on Sunday, I made
star lanterns
with Zahana and Rohan. I have been wanting to make these for some time and really enjoyed the whole process. (I do have to add a word of caution. One of them caught on fire, so we decided to light these only at mealtimes when they can be closely supervised.)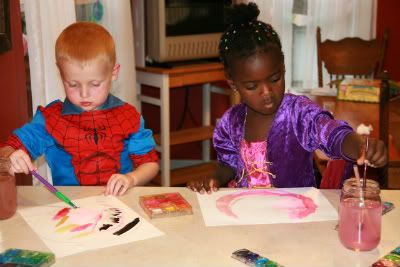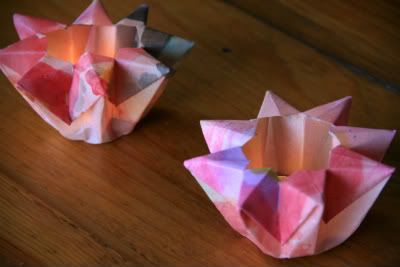 Larkin began the annual flurry of snowflake-making.
And the little ones helped me make an
apple cake
(with extra cinnamon, nutmeg, and allspice.)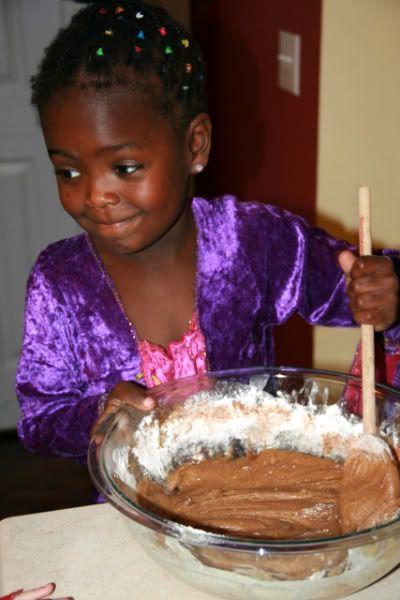 Finally, after being stuck in traffic for hours, Grandma and Miah arrived safely. Grandma played games and made puzzles with the kids.
She also knitted me a pair of leg warmers out of some very fluffy angora I had spun. They are
so
soft and warm! Miah started knitting a scarf out of some pretty rainbow yarn Grandma gave her.
They liked the star lanterns, so we all made some more together.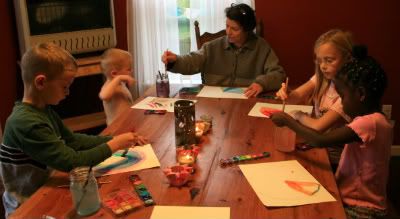 We had two different kinds of hot chocolate: a
delicious one
we first tried two years ago and a
new yummy one
that I tweaked a bit by substituting most of the water for milk.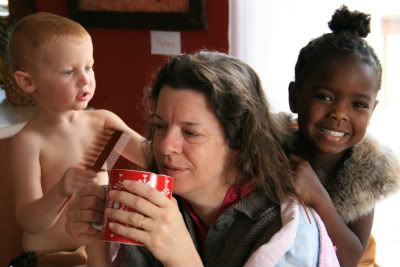 Hmm . . . looks like he's
taking after Larkin
.
After a bit, we set up Zahana and Rohan with some cardboard cut out in various Christmasy shapes and a bunch of crafty stuff to decorate them.
So that the older set could make ornaments. We made
these stars
out of 3" squares of paper, much smaller than I've made them before.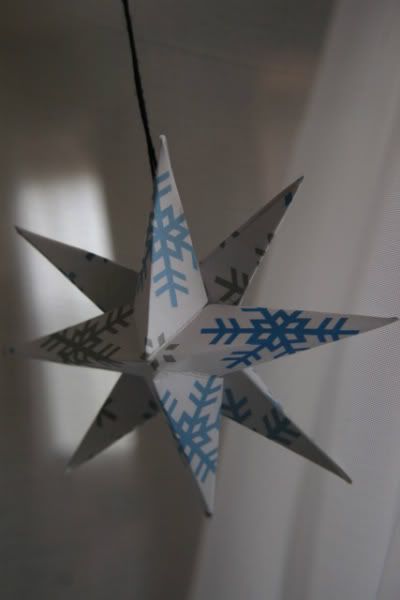 Then we painted small drawer handles for mushroom ornaments.
Making
Polish Angel Wings
and singing "Angels We Have Heard on High". This dough was excellent for the kids to work with. It was very stretchy, so it didn't fall apart easily.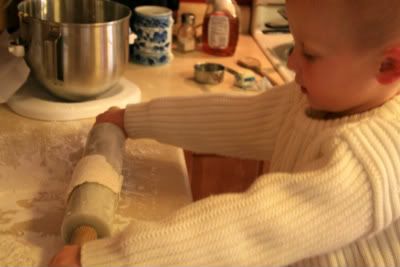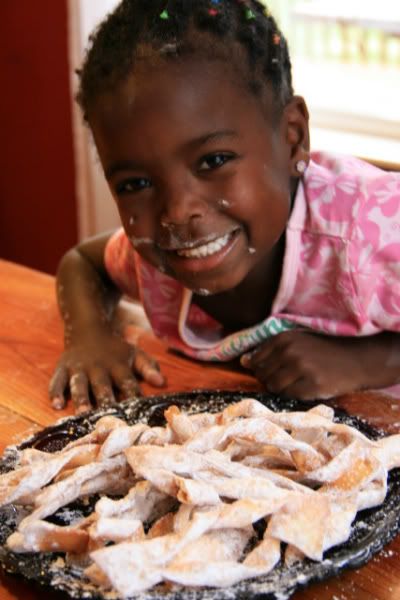 Grandma read lots of Christmas stories.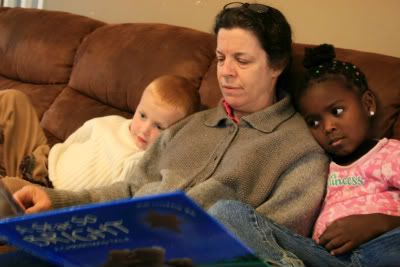 And played Christmas songs on the piano with Zahana.
We had our first snow yesterday. It was over before the kids could get their coats and shoes on. But we played with faux snow. This usually keeps them busy for about an hour.
Which gave me time to make a
dodecahedron star lantern
.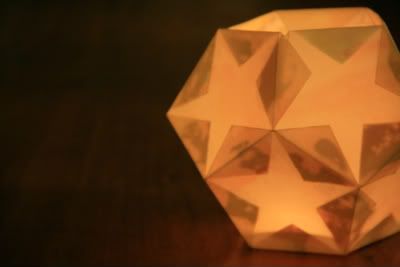 One of the stories Grandma read to the kids was Elsa Beskow's
Around the Year
. The verse for November goes like this:
"Grey is November,
cold as cold.
Stormy November,
wind and rain.
No snow.
No ice.
No glittering sun.
Grey is November,
except
by the bright fire
with a story,
a cushion for the cat,
the dark shut outside
and
the light in the flames
where mysteries lie
and
we dream."
It felt very fitting as it has been very grey, but we were thoroughly enjoying our little fires and stories. I hope the kids always remember and cherish the special times they have with Grandma and Grandpa and other extended family members.
". . . For what is your life? It is even a vapor that appears for a little time and then vanishes away." James 4:14

"Better to light a candle than to curse the darkness." ~Chinese Proverb

Then Jesus spoke to them again, saying, "I am the light of the world. He who follows Me shall not walk in darkness, but have the light of life." John 8:12
"Let your light so shine before men, that they may see your good works and glorify your Father in heaven." ~Jesus, Matthew 5:16