Yarn production, as well as everything else in my life right now, has dwindled to not much of anything. But I made these 2 yarns recently (as in, sometime within the last month.) One I love. One I hate. Just my personal opinion. Hopefully there's the perfect person out there for each of these yarns, which can be purchased
here
.
This yarn is a strand of rainbow plied with a a strand of silky soft and curly mohair locks.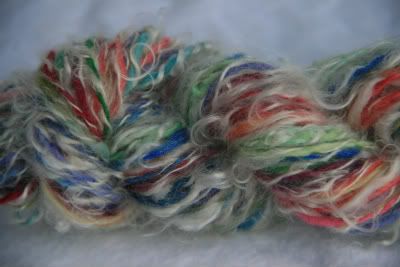 This one is corespun with strands of flourite beads.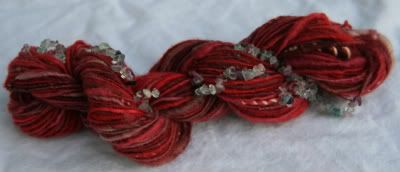 Hypothetically, I have all kinds of yarn projects I'm excited about. I have a bag of green bfl to spin for granny squares. I'd really like to see how the blanket is going to turn out.
I separated out some colors from my big bag of scraps to do another Picto Create. This one is heirloom tomatoes. I'm going to try navajo plying a yarn with lots of nubs for a bubbly, tomatoey look.
I have a request for a custom order, which is always exciting. And some beautiful art batts came in the mail today. They are the first art batts I've ordered, and I'm really excited about creating with them. In my head, anyway.
In real life, I think I'll just go to bed.