Zahana turns five in November, so I couldn't officially register her for kindergarten. But she's ready for me to do more with her than toddler stuff. I definitely don't want to get too formal with her, for her sake and mine, so I just came up with some simple goals for the year. She knows the names of the letters, so goal #1 is to help her learn letter sounds. For now the plan for that is using puzzles and alphabet books and in natural conversation and story reading.
For math, we are using
Dr. Wright's Kitchen Table Math
. This is just a guide for bringing math into everyday life as well as suggestions for games and manipulatives. This little game from the book is called Eat the Triangle (or something like that). Six rows of raisins form a triangle. You roll a die and eat the row that has that number in it. A little too easy for Zahana but perfect for Rohan. Especially since he LOVES raisins!
The game
Rush Hour
was suggested in the book. I found the
Jr. version
on sale, and the kids love it. It says ages 6-8 on it, but Zahana can do at least the first ten cards and Miah and Larkin breezed right through them all, so I'd say it's more appropriate for slightly younger kids.
We count lots of things. I'm hoping to find some more math/number type books at the library. Also,
Life of Fred
just came out with elementary books. I bought the first one, Apples, and we all are going through it together. Everything is way too easy for Miah and Larkin, but I told them they could help me teach the little ones. It only takes about ten minutes a day, and I'm hoping it will solidify some concepts for them. I think it will quickly progress to being over Zahana's head, but I think she will pick up on some concepts. I remember when I was only teaching Miah and I was surprised at how much Larkin was picking up on without me directly teaching him. Anyway, we all think Fred is funny, so we're enjoying our little together math lessons.
Yesterday Zahana and Rohan helped me pick all the rocks out of the sand box. Then we practiced writing numbers in the sand before I surprised them with a bunch of new sand. Then it was time for building castles and digging moats, of course.
Just playing with lentils.
I found a box of laminated games at the library's used book sale. All kinds of preschool/kindergarten games, like opposites, patterns, and rhymes.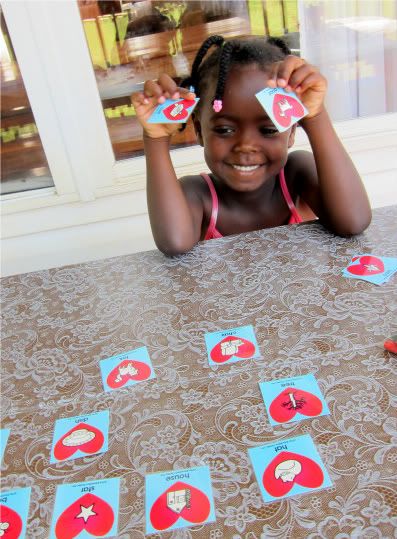 Every day we have a short Bible story from
The Beginner's Bible
(which they always say is their favorite), read some nursery rhymes from
The Christian Mother Goose
, and look through
Around the Year
, saying the months of the year and talking about what happens in each one. We usually have one more book about butterflies or lions or Ethiopia or whatever suits us that day. They also hear me read from the real Bible while they eat breakfast and they are learning Bible verses right along with Miah and Larkin.
And they have lots of time to play and paint and explore all by themselves.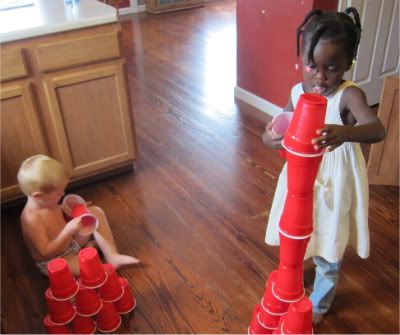 Helping with lunch.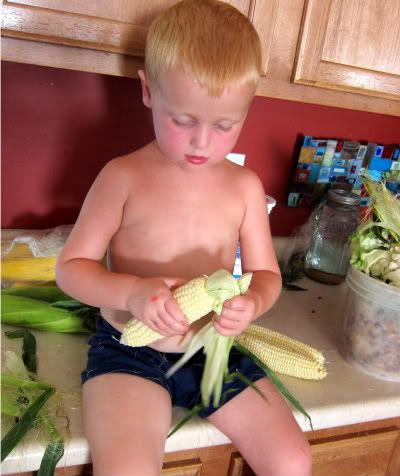 We were all smiling when Rohan dressed himself up in silks and very solemnly and continuously hummed "
Time to Say Good-Bye
". It seems like he is always singing.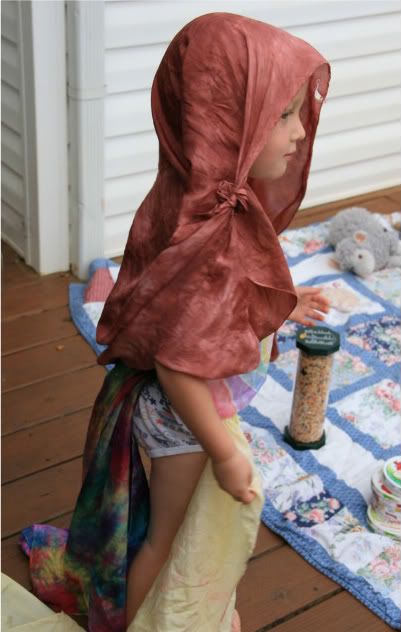 My over-zealous wisteria now has the perfect companion. The goats love all the clippings.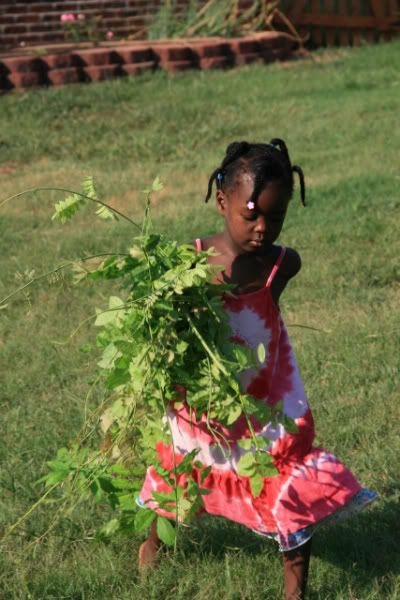 And the kids love feeding them.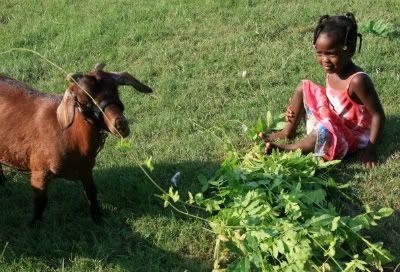 So I think my goals for Zahana will help me to focus on her without getting too stressed about "school" for her. I don't have goals for Rohan. He is always present for everything, and I know he will pick up things at his own pace. My main goal is to carve out some purposeful, happy time to focus on the little two each day and to be able to look back at the end of the year and see how far they have come.