Finally, I can say YES! We've been without our raw milk for a couple months at least. We had switched to a closer source, which ended up being very unreliable. In order to go back to where I was getting milk before, I would have to pay a lot to get the cow shares back. Plus, there's all the driving to pick up the milk which is a hassle. So we just decided to have our own little milkers in the back yard. Don't have to drive, don't have to buy shares and a monthly "boarding fee", don't have to rely on anyone else.
We drove 5 hours to get a goat already in milk. Miah occupied herself with the drop spindle on the way. And we listened to hours and hours of
The Story of the World
.
Here they are, safe at home. Niankhe on the left is a Nubian/Nigerian Dwarf cross. Sapphire on the right is a Nigerian Dwarf/Silkie cross.
Children eagerly awaiting their milk. Niankhe is the one milking right now, and Sapphire is pregnant, due to kid in early December.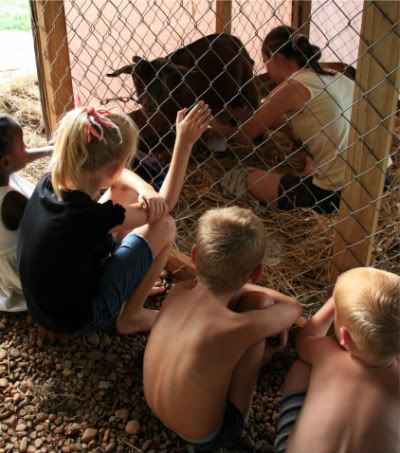 Oh. Did I say we wouldn't have to depend on anyone else? Well, that's not entirely true. We depend on the goats, which are too unsettled and too stubborn to be happy about producing milk for me right now. I have to say that I thoroughly enjoy sitting and milking, although I am very slow. And maybe it's my slowness that's causing Niankhe to be less than cooperative. But we are getting some fresh milk. And we all love it.
Oh happy day!
Oh happy happy day!