Miah's birthday week started with Rohan digging in his belly button. It ended that way too. He's got a thing for his belly button right now. He kind of stays plugged into it, like thumb sucking.
Now on to the birthday girl!
On my tenth birthday, I received Kirsten, the American Girl Doll. My grandpa made her a bed and a trunk. My grandma made several outfits for her. All this has been waiting in our basement for just the right moment. This spring, Miah read the Kirsten books. She's also been playing more with dolls. I thought Miah's ninth birthday was just the right moment.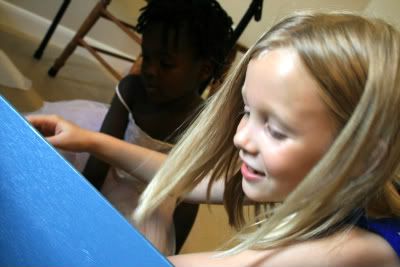 She really liked the hat with cherries, because she remembered it from one of the stories.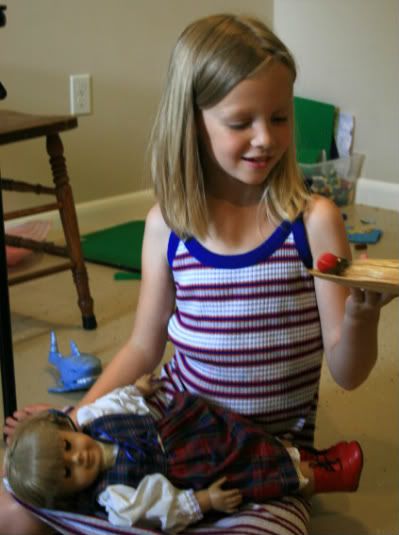 She changed the clothes right away.
Then went up to her room and got everything situated.
She's hardly put her down at all since Monday.
Tuesday we had dress rehearsal for the play we've been working on with friends. The kids are doing The Bremen Town Musicians. Miah is the farmer's wife in the first scene and the chief robber in the second scene. Larkin is the rooster, and Zahana and Rohan are horses. After practice we had watermelon, and everybody sang "Happy Birthday" to Miah.
Miah wanted to celebrate her birthday in Kentucky with her cousins this year. We had a fairy tale theme. The little lanterns were Miah's idea, and she made most of them. My sister was a big help in getting everything ready.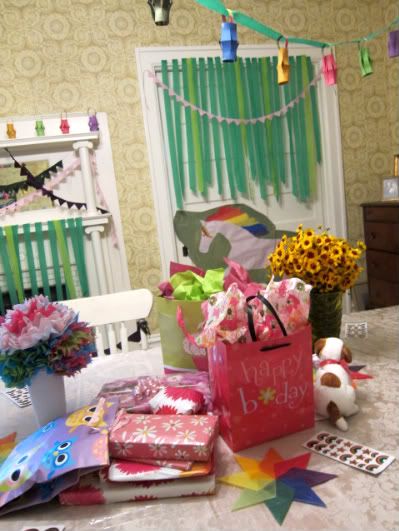 Presents.
Games.
The Lily Pad Crossing.
Pin the Horn on the Unicorn.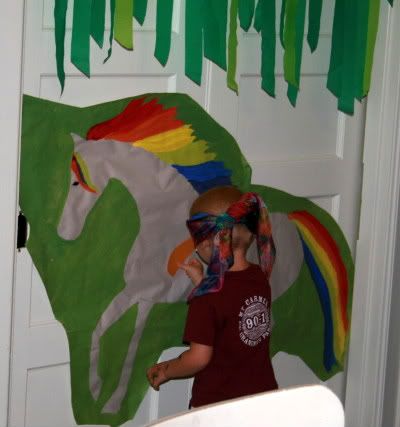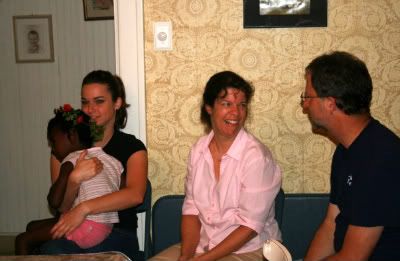 Tiny fairy cakes. (A great big thank you to my
friend
who helped with the cupcakes. Everybody went on and on about the delicious frosting. :)
A happy birthday girl.
Food. I do have to say that those beautiful purple carrots were from our garden, and truly, the party would not have been the same without them. :) Or the cutey little sandwiches my sister made.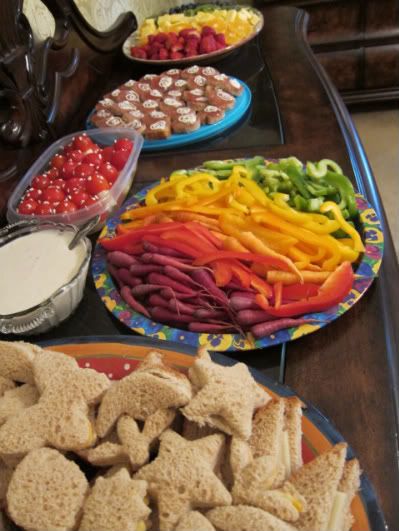 Cream cheese snails (made by my sister) and tomato/cheese stick toadstools.
My sister got a big kick out of that fruit tray. I made the entire thing before I remembered that I actually wasn't going to make a fruit tray. I had bought skewers and was going to make fairy wands with pineapple stars on top. But I chopped up the pineapple, so that idea was out the window, and my sister kept laughing at me. I really don't think I'm that old. I just stayed up too late getting ready for the party. And besides, she's going to be old pretty soon too.
Birthday girl liked it anyway.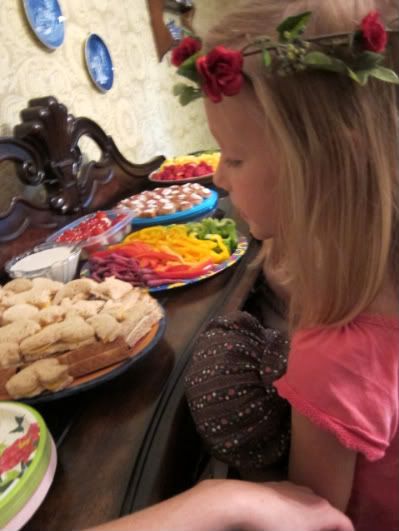 Rohan kept going back for the little snails.
So we just gave him the whole tray.
My sister's poodle and my mom's flowers.
My sister's birthday was this week too (see, told you she was getting old) so I painted a silk scarf for her.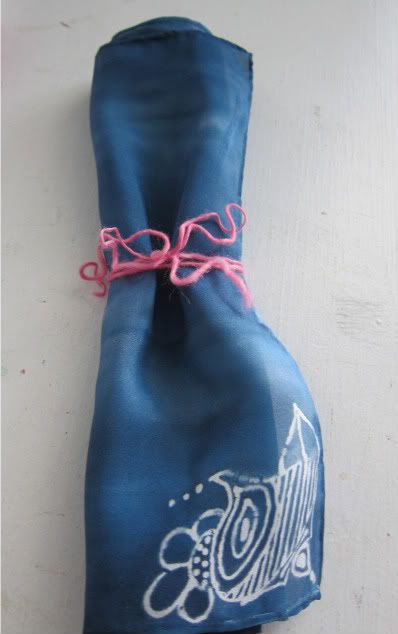 Since she likes India, I used a
kolam
design.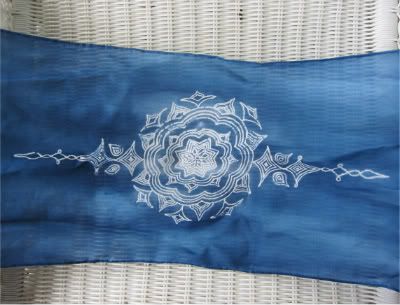 I had a little trouble with the gutta dissolving too soon, but it didn't end up being as bad as I was afraid it would be.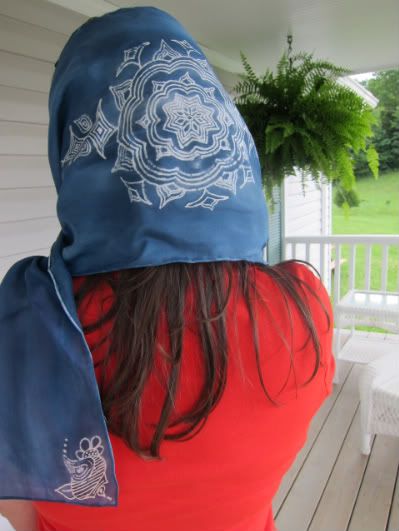 Leaving my parents' house, we saw this beautiful sight.
Miah, I love you, my sweet sweet girl. Happy Birthday!! x ♥ o
"Oh, satisfy us early with Your mercy,
That we may rejoice and be glad all our days!
Let Your work appear to Your servants,
And Your glory to their children.
And let the beauty of the LORD our God be upon us,
And establish the work of our hands for us;
Yes, establish the work of our hands."
Psalm 90:14,16,17