The fiber festival in Lexington, KY was so much fun. There were a lot of vendors; it was so hard to choose what to buy! Here are the three lusciously soft fibers that I have not spun yet. Raw black alpaca, tan and white alpaca roving, and one ounce of cashmere.
I spun this icelandic up really quick. And I really really enjoyed it. I think I'll try to get some more. It's now for sale in
the shop
.
I bought this mohair/nylon/merino blend, because I liked the color. This was not my favorite to spin. It was more like hair than wool and not as soft as I expected it to be. But it is pretty. Also for sale in
the shop
.
Of course I had to get some rainbow. This is merino and bamboo - soft and gorgeous. I spun it all into a single which I plan to coil around a thread but haven't gotten to that yet. I'm excited to see how it turns out.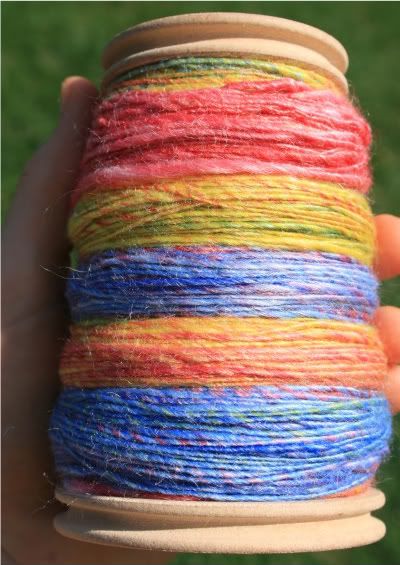 This is what I was working on before I went up to the festival. It's hand dyed (not by me) blueface leicester with a little sparkle. I'm keeping this stuff. My mom is going to teach Miah and me how to make granny squares. So we're planning on using this for a blanket.