Since a lot of people like to make window stars, I thought I'd share how I make my handpainted ones.
First, find a painting partner.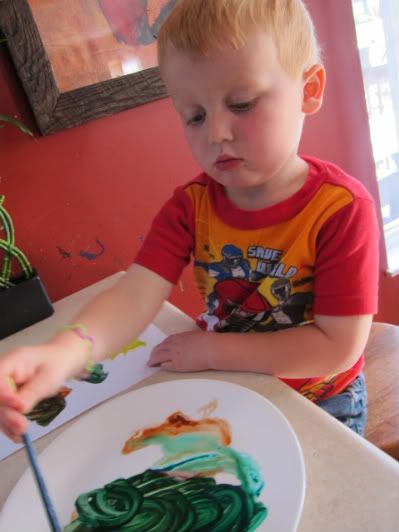 I use tracing paper and watercolors.
It takes about three papers to make a star, so you may want to paint them alike. If you are doing a pattern, like these rainbow stripes, it helps to line the first paper up next to the others when you are painting so you can match the stripes in width.
Let them dry.
Then iron each paper. This won't give you perfectly flat paper, but it will be much better. Here you can see the ironed paper on the right and unironed on the left. I use a dry iron on high heat and go over the paper quickly several times.
To make the star pictured at top, you will need 16 rectangles which are 6" x 1 3/4". Keep in mind when you are cutting that your paper is now slightly warped from the wet paint. This makes it a little more difficult to get your pieces square. Lay rectangle painted side down and fold in half lengthwise then open up again.
Fold top and bottom corners in to center line. Stick down with a little bit of glue stick every time you make a fold. This makes the star lay flatter and also makes subsequent folds a lot easier to make.
Fold top and bottom corners to center line again.
Fold in the top corners to center line one more time. So your top should be folded in three times and the bottom only twice.
Repeat for all pieces.
Now use a glue stick to stick your points together. The bottom outside line of the top point should line up with the center line of the previous point. All your points should be painted side up, folded sides down now.
On your very last point, you will stick it on the previous point just like all the others, but lift up the first point and slide the last one under it. So the first point should be glued on top of the last point.
And there you have a handpainted window star! This one took me about 2 1/2 hours from start to finish.
This star and these two new stars are now in
the etsy shop
.
Miah used the scraps to make this pretty star. She's much more clever than I am. She makes her own designs. I have to refer to
a book
.
Also new in
the etsy shop
are a lot of notecards and a couple of handpainted treasure map playsilks.
More owlies from my sister-in-law.
And some of her sweet babies, which I just
love
.
P.S. Owls and dolls are 15% off right now!