1.Let's start at the beginning. God blessed me by allowing me to be born to godly parents, who themselves were born to godly parents - a heritage of faith. They taught me about God and the truth of His Word. They took us to church every Wednesday and twice on Sundays. My daddy worked hard to provide for his family. My mama showed me the value of a homemaker.
2. God blessed me with a happy childhood. I grew up in the country with lots of room to roam and plenty of critters and a brother and sister to play with. Summertime was wonderful. Mostly we played out in the woods or down in the creek, but my mama would also take us to the pool and the library and the park. My daddy would take us all on grand summer vacations - the beach or New England for some history or camping all the way out to the Grand Canyon and back or some remote island on a lake in Canada.
4. God gave me Jeremiah, a hardworking provider, an incomparable lover, an involved father. He also spared me from the heartbreak of breakups and lost loves; Jeremiah is my first and only true love.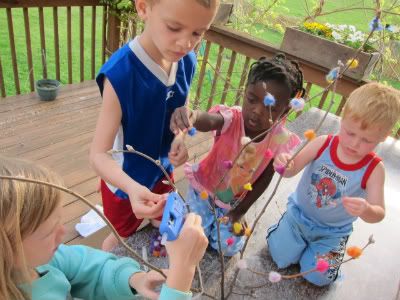 5.God gave me Miah. In a time when I was confused about which way to go, this little surprise made things pretty clear. She's my compassionate, helpful, and well-behaved one. What a blessing she is to me!
6.God gave me Larkin. He's a silly little guy who loves animals and science as much as I do. It's so fun to talk to him about our shared interests.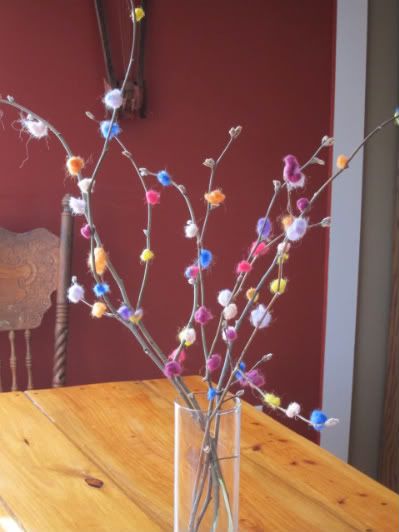 7.God gave me Zahana. Her life is a testimony that God's Word is true: He puts the solitary in families and protects the orphan, He is our shield protecting us from all harm whether physical or any other kind.
8.God gave me Rohan. "Behold, children are a heritage from the LORD, The fruit of the womb is a reward." Psalm 127:3 What a sweet little boy he is! He keeps me supplied with hugs and kisses.
10. Homeschooling support. We are blessed to have supportive families and be surrounded by many homeschoolers.
11. My church. It's not easy finding a good church, where God's Word is preached
and
we feel like we fit in.
12. Friends to talk with, friends who understand where I'm coming from and what I'm doing and thinking, friends that support with encouragement, advice, and prayer.
13. Jeremiah's job. While there are always rumors, his job has been solid. In a time when many people have lost their jobs, I count that as a big blessing.
14.I am blessed by the place I live. Winters aren't too long, nature abounds, and extended family is close enough that we can get to them. And there's a place for chickens and a garden.
15.Wool! And angora and alpaca and bamboo and camel down and . . . This may seem like a trivial thing, but I love it so much. Being able to spin is such a blessing to me. I love the feel of it and being able to produce something. I can relax and accomplish something at the same time!
16.Color! And craftiness. Can you imagine the world in shades of gray? If things are getting stressful or maybe just blah, some new bit of color can sure brighten my mood.
17.Critters. I'm writing this post with a new baby bunny in my lap. I like having company. Soft, cuddly company. And on days when I feel stuck in the house with chores, I at least have to go out and tend to the rabbits and chickens. It helps. (Not to mention the fresh eggs and homegrown fiber for spinning!)
18. Fellow bloggers. Wow - I have gotten so many ideas for teaching and crafting! I think I'd be pretty boring without you all.
19.God has taught me contentment. I mean, I wouldn't say that I've arrived as far as contentment is concerned, but I do feel like I've come a long way and God has brought me this far.
20.I'm finally comfortable in my own skin. Once again, it's "for the most part." But looking back - yes, He has brought me a long way.
21. Freedom. When I think of the persecuted church around the world or persecuted homeschoolers in countries like Sweden or the people I know in other countries who can't communicate freely, I am thankful for all our freedoms here.
22.Being able to rest in the sovereignty and goodness of God. He loves us, and He has everything under control!
23.I feel blessed by the brief cross-cultural experiences I have had. It widens the mind and heart and allows one to see how God works everywhere in the world.
24.The great mercy of God. "There is therefore now no condemnation for those who are in Christ Jesus." All I have received in this life and will receive in the life to come is so much better than I deserve.
25.I have never felt unloved. God has filled my whole life with people who love and care for me. And His own love for me never ceases, enabling me to love others.
26.The Bible. Some people never have one. Some can't read it freely. A light to my path, always an encouragement to my days, exposing my sins - thank You, God, for this blessing.
27.God does not leave me where I am. What a wretched person I would be if God did not constantly work on me!
28.I am blessed with good health for myself and my family. There have been issues, of course, but God sustains and shows us ways to be healthier.
29.All the little happy things - sun, flowers, dancing, singing, celebrating, my wisteria, creeks, a thousand little things every day.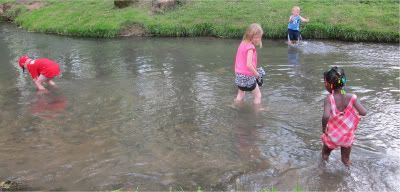 30. Every day is a blessing, an opportunity to serve Jesus where I am. Who of us knows how many days we have? It is only by His hand we are sustained. May I bless Him through all the blessings He has given me.