Miah has been reading the
Felicity
books. This is a big step for her, to read a series of real books like this. She's doing so good and enjoying them too. I am somewhat uneasy about them. I remember reading them and liking them as a kid. I didn't remember that Felicity was a disobedient kid who was rewarded for her offenses. So we've had some discussions.
We've been moving along somewhat slowly this month in history due to bouts of illness.
Thanks to a commenter, we finally found a great series on the American Revolution,
Liberty's Kids
. The kids love it. I even learned a few things from it. We also watched
Johnny Tremain
and listened to the audiobook, Mr. Revere and I. We've read through The Boston Massacre and the Boston Tea Party, Phillis Wheatley, Lexington and Concord, Paul Revere, the Battle of Bunker Hill, the Declaration of Independence, the Liberty Bell, Thomas Paine, Betsy Ross, and Washington crossing the Delaware. Library books, of course.
Work on the notebook has been slower than the reading. Here are the free resources we are using for the above topics:
American Revolution Lapbook
American Revolution Notebooking pages
Make a Cornhusk Doll
Boston Massacre NB pg
Paul Revere fill-in-the-blank
Coded Message
Patriot Spy Online Game
Liberty Bell pg
Cut a 5-Point Star
Flag pg
Betsy Ross
Unfortunately, I can't link directly to pages on
Homeschool Share
, but there's plenty there to find.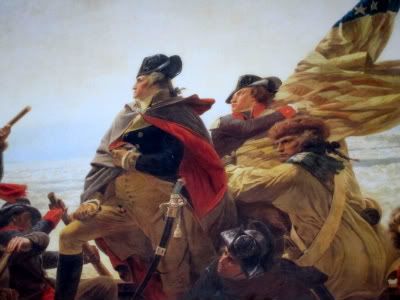 The kids have placed several bookmarks in a colonial craft book, and I'd love for them to play around with some poetry since we read Phillis Wheatley's, so if we ever get around to all that, I'll let you know.
But I'm starting to think that Books are enough.