Today I'm joining in over at
Simple Homeschool
for their Day in the Life series. I feel like we've got a good rhythm going in our days right now, so I'm happy to share. I have a schedule that I use to make sure I'm getting done what I need to get done. Otherwise, I spend way too much time doing not much of anything and wonder why I don't have time to get everything done. But I'm flexible too. Straying from the daily plan is sometimes a good thing.
For those of you who don't already know me, I have four kids, ages 8, 7, 4, and3. We've been homeschooling since the beginning - so about 5 years, if you want to count preschool for my oldest.
I start the day by getting up before the kids. I'm a morning person anyway, and the whole day seems to flow better if I get a head start. I read my Bible, take a bath, put the dog out, eat something, check my email, just this and that to get off to a good start.
The kids come down around 7:00, and we have breakfast. I read to them from the Bible and we go over some of our memory verses and pray together, while they're all still at the table. We sing most of our verses, so it's a fun time for the kids.
After that, Miah and Larkin (8 and 7) do their charts. This involves getting dressed, cleaning their rooms, caring for their plants and animals, and cleaning their bathroom. Then they go up to
The Forest Room
and do some independent work - reading, copywork, writing cards to send, or some math they need to finish up.
Meanwhile, I dress the little ones, and together we feed the outside animals and water the plants in the kitchen. Then we have some preschool time. This is not really anything formal. I have some books and activities in my closet that they can choose from or we do a craft or bake bread together. This is the first time I've deliberately added an extended special time for me to enjoy my little ones, and I'm so glad I did. We all enjoy it very much.
About 10:00, we all go up to the Forest Room. The idea is for Zahana and Rohan (4 and 3) to play quietly in their area while I have lessons with the older two. We work on math first. We use
Singapore math
, but I also have plenty of hands-on materials we use too. Thankfully, Miah and Larkin are on the same level in math. That makes it a lot easier on me. Then we either do a bit of English using
Ruth Heller's books
and simple dictation of their copywork or we do some art or form drawing. Since Miah's so into art, I've really tried to make it a priority to incorporate that into our lesson time. We've only just started the form drawing, but we all really love it. It's an opportunity for all four kids to learn something together. I'll do a post on our form drawing soon, but for now
here
's the resource we're using (it's the top one in the right-hand column.)
About 11:30, I make lunch. We eat and I read aloud a good story for about an hour. Right now, we're reading Little Pilgrim's Progress. Then I spend the next hour and a half in the kitchen, cooking and cleaning.
By 2:30, Rohan's ready for a nap, which is a good time for history or science. We use
TruthQuest
for history and are currently learning about the American Revolution. For science, we alternate between a subject the kids pick and
Apologia Botany
.
Rohan wakes up around 4:30, and we go for a walk. Then we have supper and the kids take baths. The kids play or watch a video while I do some laundry or other cleaning.
7:30, we read a chapter from a missionary book and pray. This only takes about 15 minutes.
Then each evening, I spend about 45 minutes with one kid while the other three play or look at books in their rooms. The kids look forward to their individual time with Mama, and if it's Saturday, somebody gets to sleep in my bed. I love the snuggle time, but I don't get much sleep. That's why I limit it to once a week.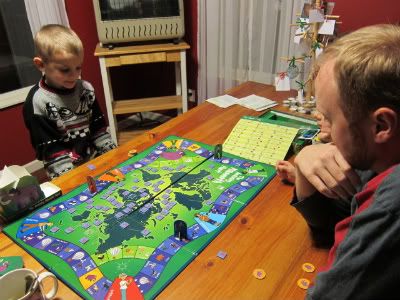 After the kids are tucked in bed at 8:30, I have time to craft, read, blog, or make plans for the next week.
The days vary depending on Jeremiah's work schedule or if we have some place to go. We're part of two co-ops and scouts. We have church and small group on Sundays. We like to have friends over or go fun places, and I've got errands to run of course. So not everyday goes like this, but our at-home days do.
So that's about it. I hope you enjoyed reading about our days.