We have started form drawing and I'm very excited to share this with you since we enjoyed it so much. First, though, I'd like to share my thoughts on Waldorf education.
I have within the last few months discovered another method and philosophy of education: Waldorf. Being one who loves to read about educational methods and philosophies, I explored this one. I like the natural sort of approach it brings to all aspects of learning. I like the handwork and the crafts; they sure do brighten up a home. I like that nature is an integral part of the education. I like the stories and the hands-on aspect. And I like how lovely it all looks, from art to math and everything in between. But the philosophy behind it all I found to be disturbing. It's based on anthroposophy, "a spiritual philosophy founded by Rudolf Steiner that brings the spiritual traditions of central Europe into a modern context. The philosophy postulates the existence of an objective, intellectually comprehensible spiritual world accessible to direct experience through inner development—more specifically through cultivating conscientiously a form of thinking independent of sensory experience. In its investigations of the spiritual world, anthroposophy aims to attain the precision and clarity of natural science's investigations of the physical world." (Quoted from Wikipedia,
here
.) It is claimed elsewhere that anthroposophy is not a religion and can go with any religion or non-religion. And I've read, specifically, that it goes well with Christianity. Some Waldorf teachers I've read have made some pretty outlandish statements, claimed to be "Christian" by grossly and purposely misquoting the Word of God. But let me make something clear. True Christianity is following Christ. It is based on the Truth of Jesus Christ and His Holy Word, the Bible, without additions or subtractions. Therefore, without Jesus, we cannot gain any true spiritual knowledge or any true inner development. We will never be able to build or find strength within ourselves if we are not inhabited by the One True God of the universe. There is no other way.
I felt, initially, that I should stay away from any type of Waldorf education and that I should not give it a place on my blog. However, thinking about things honestly, I can't say that I agree 100% with the philosophical views of any of the other teachers I've associated myself with: Montessori, Charlotte Mason, unschoolers, and whoever else I've gone on about. I don't necessarily prescribe to their philosophy, only to some of their methods.
So I think I can, with honesty and good conscience, do the same with Waldorf. What we're doing here with the form drawing, for example, is just drawing and narrating (just like Charlotte Mason) and play. Nothing harmful. I just feel the need to be very cautious in the parts I choose to embrace and present to my kids.
Alright, on to the fun part.
First of all, I have been inspired to do the form drawing by
Ancient Hearth
. On the left-hand sidebar of her blog, you will find all her first grade study blocks, including her
form drawing
block. Looking through her blog, you'll see what I mean when I say Waldorf education is so lovely!
I decided to buy the two ebooks on form drawing found
here
(top item in right-hand column.) I have to admit that my initial impression with form drawing was that it looked too simple to be necessary to teach. But the more I looked and thought about it, I realized that it would fit nicely into our day and would serve several good purposes. First, Miah loves art, and I was looking for more ways to add art into our homeschool. Secondly, I have wanted to add storytelling into our lives for a few years; I just didn't know how. And as simple as this looked, I thought it would be perfect for involving Zahana and Rohan in the school portion of our days. I've really felt the need to focus on them more. I thought Miah and Larkin might think it was too easy, but they love it.
The first form is the straight line. Easy enough, right? It takes concentration to make your line perfectly straight. The kids wanted to practice and practice until their lines were perfectly straight. We put a curvy line on the board to see if it would mess us up. Before drawing on the chalk board, we drew lines in the air and made a straight line with our bodies.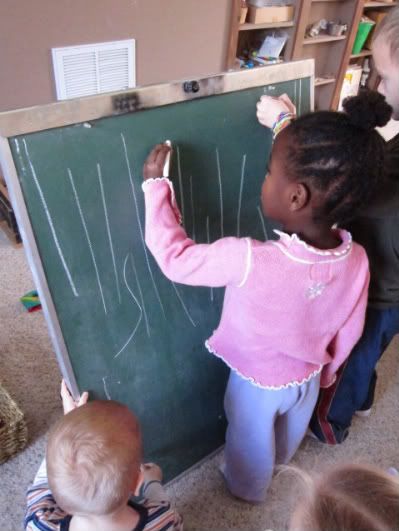 Since we have been reading Little Pilgrim's Progress, it was a natural fit to put this story with the straight line. We learned matthew 7:13,14 by singing. "Enter by the narrow gate; for wide is the gate and broad is the way that leads to destruction, and there are many who go in by it. Because narrow is the gate and difficult is the way which leads to life, and there are few who find it."
Here is my chalk drawing of the first part of the story. The kids pointed out all the straight lines used to make the picture.
Then they acted out the story with props.
Evangelist talking to Little Christian in the City of Destruction.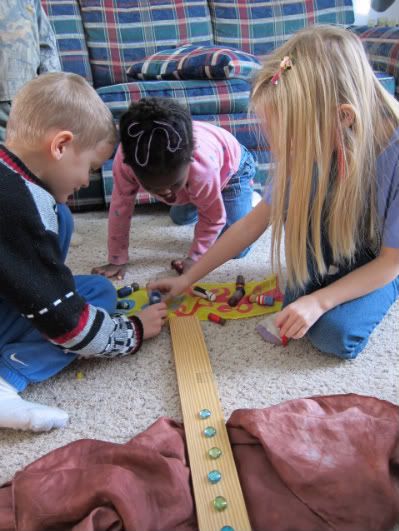 Help pulling Little Christian out of the Slough of Despond.
Talking to Goodwill at the wicket gate.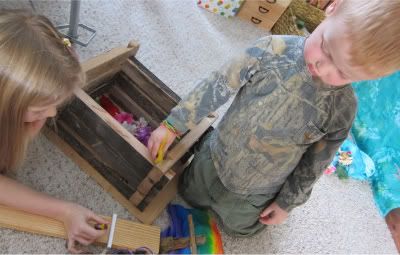 At the cross.
Then the kids made their own drawings of the story. Miah and Larkin used colored pencils. I told them they could copy my chalk drawing or draw any part of the story they wanted. The only guidelines were to use straight lines somewhere in the picture, do their very best work, and fill in the whole page. For Zahana and Rohan, I got a clean sheet of paper for each of us and directed them in a simple version of the chalk drawing, one line at a time.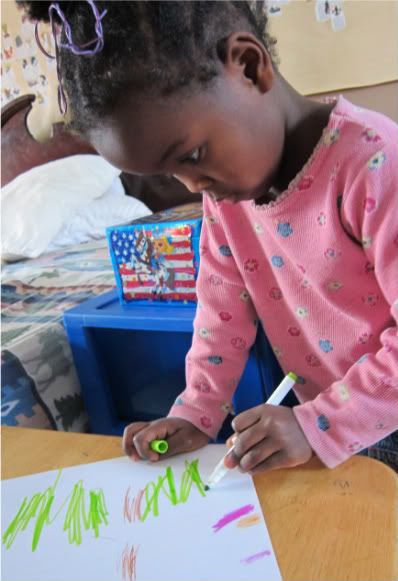 This is Zahana's. She actually did pretty good until she colored the grass on top of her path, which is too faint to see in the photo.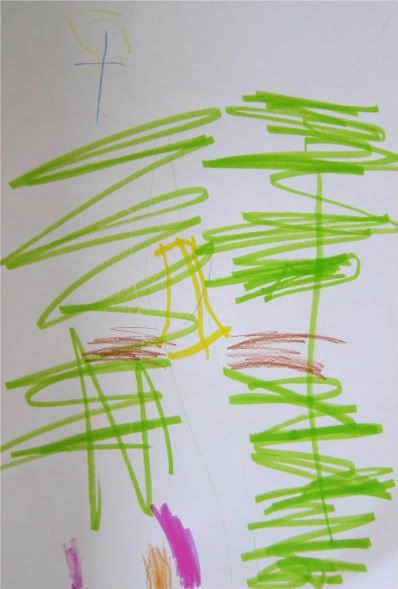 This is Rohan's. I was absolutely thrilled with this since I've never seen anything from him other than scribbles. He did everything by himself except the yellow lines coming out from the cross. He simply said, "I cannot," and wouldn't even attempt it. So we drew that part together.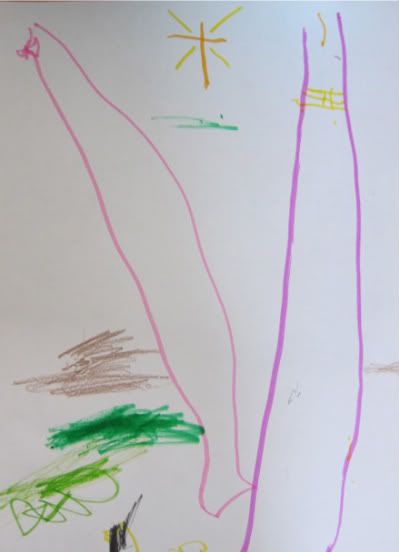 This is Larkin's. He added the Palace Beautiful.
This is Miah's. She added Help pulling Little Christian out of the Slough of Despond.
So this whole experience was really a good one. Nobody felt like it was too easy or too hard. They loved every aspect of it. And I loved how we all worked on it together. I'm looking forward to our next lesson.