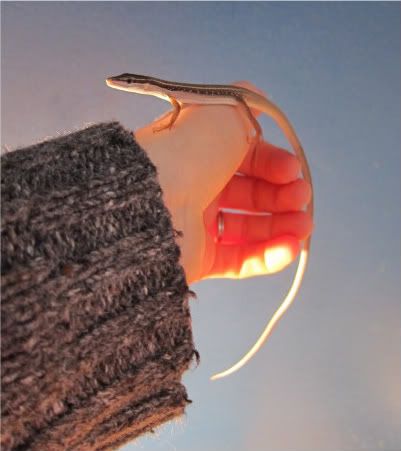 Larkin's Christmas present was a couple of long-tailed lizards. He wanted a snake, actually, but I talked him out of it. It's not that I have a problem with snakes; it's the weekly feeding of helpless baby mice that I have an aversion to. These little guys eat meal worms. I do not have an aversion to things eating meal worms.
So Larkin wanted to learn more about reptiles. I'm afraid the science topics he chooses are difficult for me to really make much of a lesson out of. So far, he's chosen
weapons
,
amphibians
, and now reptiles. The weapon thing was just not something I have anywhere in my head, so it was hard for me to do which made for a short lesson. Amphibians - I've got that in my head, but there just didn't seem to be a whole lot to say about them. Now reptiles - same as amphibians. Maybe if it was spring or summer, and we could do more outdoors, hands-on, go-find-some-in-the-woods type thing. But it's winter, so I feel like Larkin's getting a bit cheated on his topics.
However, I've noticed something. His topics keep coming up. Here, there, and everywhere. It seems his own interest is bringing in the opportunities and discussions from various sources despite the lack on my part. I guess it's my job just not to hold him back.
So here's what I did do with him. The usual cartload of books from the library and some printoffs from
Homeschool Share
and
Enchanted Learning
to make a lapbook. Unfortunately, Homeschool Share is no longer allowing direct links to their pdf pages which means a lot of my links no longer work and it also makes planning ahead difficult. But you can still go to their site and type in "reptiles" and find everything; it just takes more time.
I also found
this fun experiment
which showed the kids what a reptile egg feels like.
If anybody has any more ideas for studying amphibians and reptiles in winter, Larkin would be thrilled for you to share them with me.