As usual, we started out with lots of books. Some favorites were
Mary Geddy's Day
,
On the Day Peter Stuyvesant Sailed into Town
, and various picture books about the Pennsylvania Dutch.
Then time for fun and games.
Painting in the Pennsylvania Dutch style.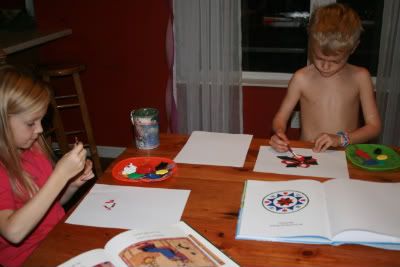 Miah's.
Larkin's.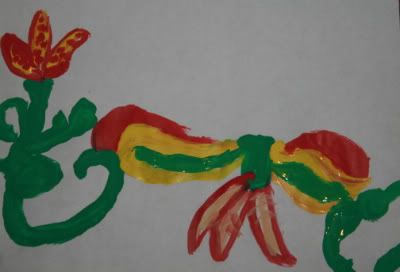 Candle making. Miah spun a cotton wick.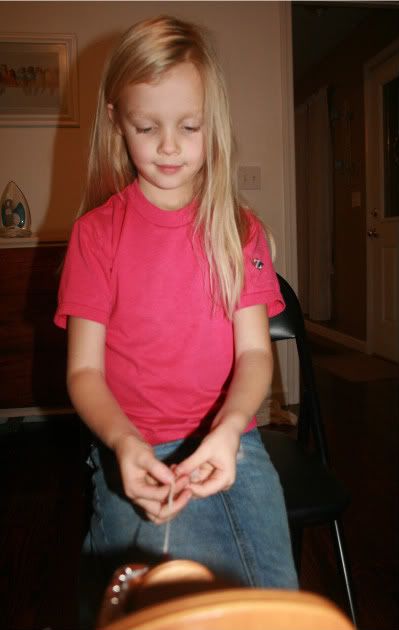 We used a popsicle mold as a candle mold. It was kind of hard to get the candles out, but once we did, the candles worked. They did burn up pretty fast. At
Acorn Pies
, we learned that soaking the wick in salt water first, then drying before dipping in wax, will make the candle burn longer. Here are several other posts from Acorn Pies that we used in our colonial studies:
Coggeshall Farm
Making Bayberry Wax
Plimoth Plantation
Troll My Dame
Make an Olive Oil Lamp
Grinding Corn
Some cute little candles Jeremiah made by dipping.
Here's a good
colonial craft
site where we found some more ideas.
Making a tin punch lantern and oil lamp.
Making and playing Troll My dame.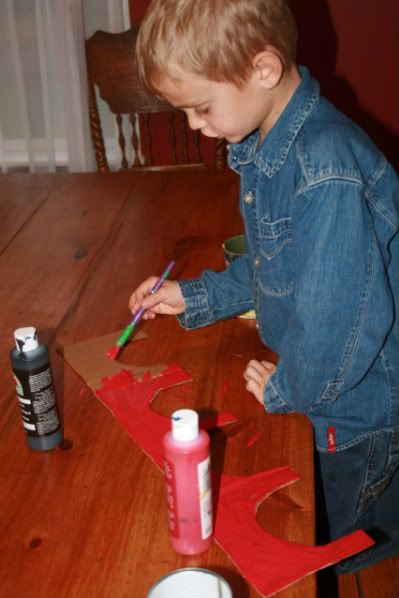 Making pomanders. We made ours using the instructions at the craft site listed above. Acorn pies has recently posted
another lovely version
.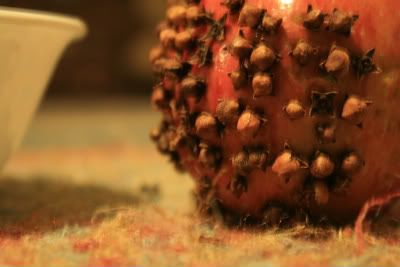 Playing
Made for Trade
and
Dutch Blitz
.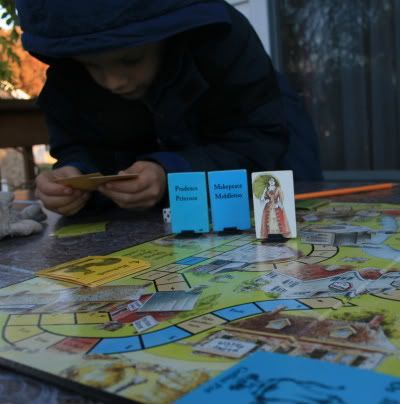 To learn the 13 colonies, the kids have been singing a song based on
this one
. It's the only one I could find that didn't have a bunch of other stuff thrown into the song.
For our notebook, we used these free resources:
A Journey Through Learning
p.44-50
Pennsylvania to the Revolution
William Penn NB paper
13 Colonies Map/Quiz
Also, I found
Colonial House
by PBS at the library. The kids watched part of it, and I think it was probably the best way (at least for me) to really understand what life for the earliest colonists was like. I didn't feel that the kids needed to watch the whole thing (a couple times I needed to hit the fast forward button), but overall I do recommend it. The online link also has some interesting material on colonial life.