Otherwise known as . . . .Learning About the Pilgrims.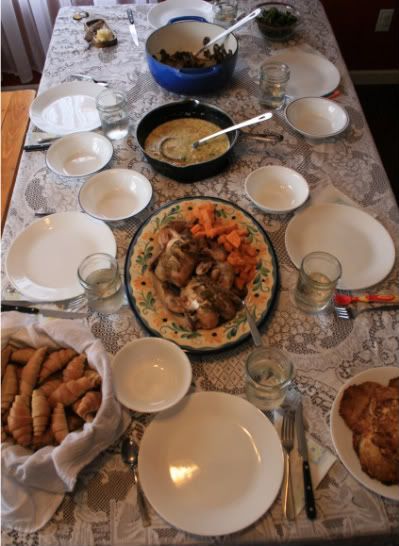 Our Thanksgiving meal. I tried to come up with things that were more likely to be at that famous Pilgrim/Wampanoag harvest feast - or at least things that could represent those foods.
bread
corn cakes
salad
turkey (Actually, it was chicken. Every stinking turkey at the store had sugar as one of the ingredients. Seriously, does it have to be in
everything.
)
vegetables
seafood stew
venison with mushrooms and onions (OK. It was beef.)
and pie. (Did they have pie? Maybe. We had pumpkin and cranberry/pear. It was possible.)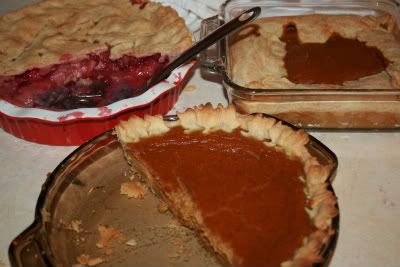 We read lots of books. Especially good are the ones from
Kate
Waters
and
Plimoth Plantation
.
Free Printables:
Goody O'Grumpity
Thanksgiving Notebook
First Thanksgiving Book
Notebooking Pages
Mayflower Quiz
17th Century Lapbook
p 17-23
Online Interactive
Scholastic
Playing
The Voyage of the Mayflower
with Auntie Beks.
This game gives the kids a good idea of the perils of traveling across the Atlantic in the 1600's. I was really glad my sister was here to play the game with the kids, because it's from the same company that made the
Jamestown game
, which honestly, I can't stand to play. It's kind of complicated and tedious and not very fun. Larkin likes the game though, so I think the only real problem for me is that I have to read all the cards the kids get (of which there were several per turn) and I have to keep telling them whos turn it is and what to do next. Maybe if the kids were older, I would find the game a little more enjoyable. The game does say ages 10 and up. As for the Mayflower game, like I said, I didn't play it. But it didn't take very long to play and seemed a lot less complicated and more doable for the kids. Nobody has asked to play again though. I'm not saying the games are no good, but I am glad I got them on sale.