Moving right along in botany, we've been learning about seeds and fruits. First, we learned about seed dispersal. We watched a 15 minute clip of
Planet Earth
with friends. Then the kids examined some seeds and noted the characteristics of those dispersed by wind.
Next, they tried to transform an almond into something a little more wind-worthy.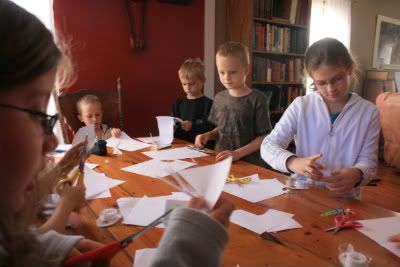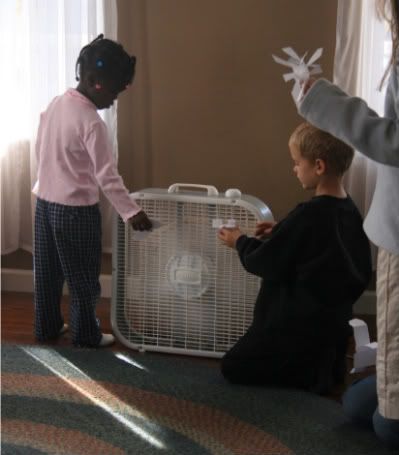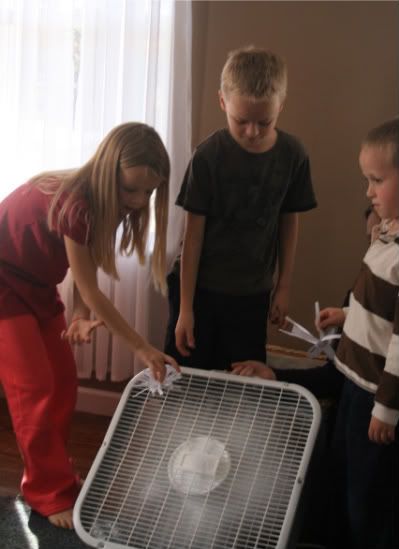 After much trial and error and lots of ingenuity, the best design turned out to be a whole sheet of paper rolled into a tube around the seed.
There it goes!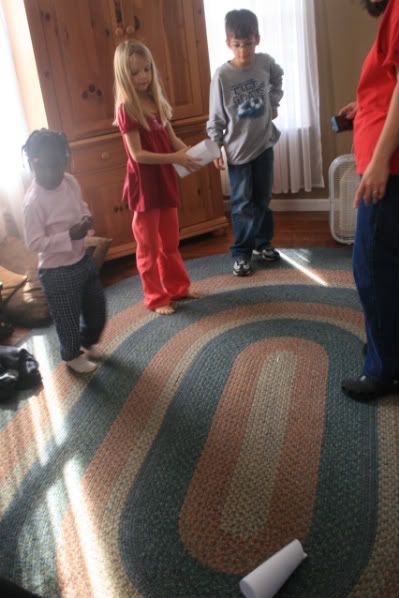 The little ones ran out of seed-transforming steam before the big kids, so they spent some time with a few good picture books about seeds.
Afterward, we all had an introduction to The Nutcracker and a lesson in rhythm and conducting.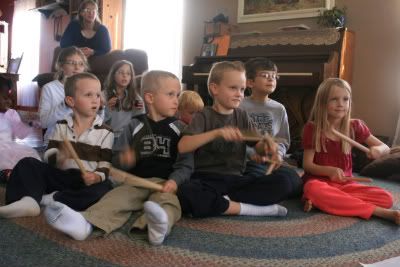 More pictures and lesson plans at
Eclectic Momma
and
It's A Boy's Life
.
Later on, when it was just us, we read more about seeds and fruits. Did you know that the definition of a fruit is "seed container"? So anything that contains a seed is a fruit - peas, cucumbers, corn, walnuts. (Examples of true vegetables would be carrots and broccoli.) I'm learning as much as the kids here!
We made a little game to learn all the different kinds of fruits, as per
Jeannie Fulbright's
instructions. A simple board - a track from start to finish - and cards with various types of fruits drawn by the kids. Correctly name the means by which its seeds are dispersed and you move forward. Name the type of fruit - hesperidium, pome, achene, nut, grain, legume, etc. - and you get an extra turn.
Larkin's seed dispersal drawings.
And Miah's.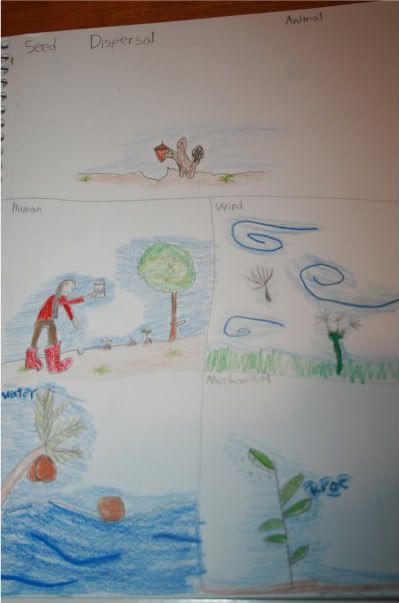 "For man, autumn is a time of harvest, of gathering together. For nature, it is a time of sowing, of scattering abroad." ~Edwin Way Teale