Rohan is really into pretend play right now. He can hang on to two little rocks - a mommy rock and a baby rock - all day. Or spend an hour playing with a shell and a feather. One of his (and the other kids') favorite things is a little box of various clay, wooden, and stone animals with a couple pinecones thrown in.
This year, for his birthday, I decided to make a few things - just a few. I spent a lot of time browsing
etsy
and blogs (like
Twig and Toadstool
) for ideas and designs, because I'm not too creative on my own. Well, I had so much fun making, that I made lots of little goodies for him. With the help of the rest of my family. It was so nice to be able to work on these projects together for the special littlest boy in our lives.
Our window stars were starting to look faded, so Miah and I made some new ones for the festivities.
And we
dyed
a couple of playsilks I had left. For the blue one, I used blue gel food coloring and for the brown, purple and orange kool-aid.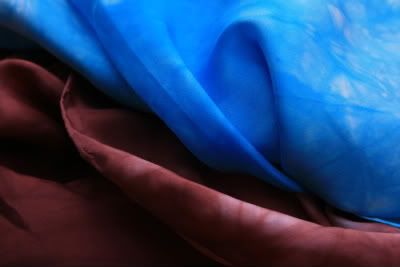 Larkin helped me paint drawer knobs to look like toadstools.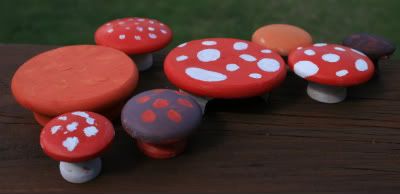 Jeremiah and I made a cave, a mountain, two trees, and some little animals out of wood, painted with watercolors, and rubbed with beeswax
polish
.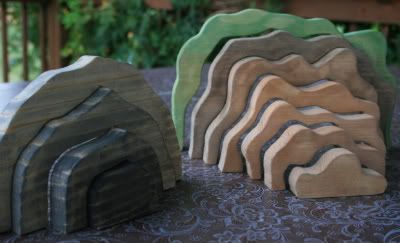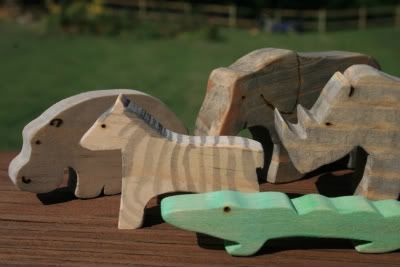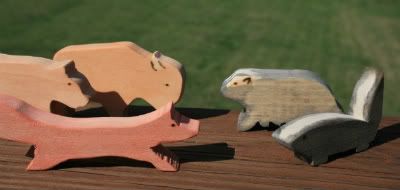 Some wooden peg dolls by me and the kids.
And my favorite - peg people with felt clothes. I could make these little guys all day. I only stopped because I ran out of pegs.
Now I'm looking forward to making things for Zahana's birthday.