We have been moving very slowly in our school time since we came back from vacation. We've been reading a lot, doing some math, but there hasn't been much to share. In history, we've been learning about the Native Americans in the eastern United States. Mostly, we've been reading all kinds of stories from the library. I had planned on doing several crafts and activities but only got around to doing a very few. Since there is such an abundance of books on Native Americans, I won't share the particular ones we read except the one I chose for my own reading:
Native Harvests
.
Links for notebooking/lapbooking:
If You Lived With the Iroquois
Mound Builders
Native American
- scroll down to "Native American"
Woodland Indians
Nature printing.
We used poke berry juice for ink and various leaves, shells, sticks, etc. for printing. The favorite object was a cut pear.
Rattles made from shells tied to a stick.
Miah's drawings.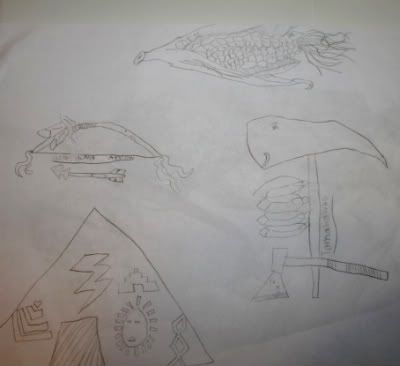 A simple game. Lay four or five sticks on the backs of your hands. Flip them up and try to catch them.
Making maple candy. We boiled maple syrup in a skillet on the fire then poured it into a bowl of ice (since we don't have any snow right now.)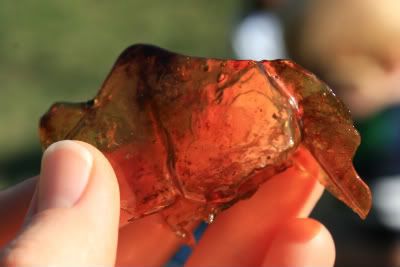 Indian Harvest menu.
Stew
Succotash
(with sauteed onions)
Acorn Squash
(maple syrup instead of brown sugar, butter instead of margarine)
corn cakes
mint tea
blueberries