We arrived in Kitty Hawk with just enough time to say hello to the ocean before the sun went down.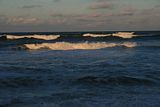 Next day, a visit to Currituck lighthouse.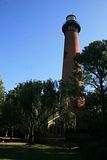 Then my dear, dear, sweet husband took us up to Corolla to see the wild horses. He knew this was something I have wanted to do for a long time. The horses are in a wildlife refuge with no roads, only sand to drive on, so you can drive your own four-wheel-drive or pay an exorbitant amount to take a tour. Thankfully, we were driving the truck instead of the van, because there's no way we'd be paying the hundreds they were asking.


After driving along the beach for several miles, we decided to head inland. Narrow sand tracks going every which way, big puddles, branches hitting and scraping the truck, searching for wild horses - this was an adventure!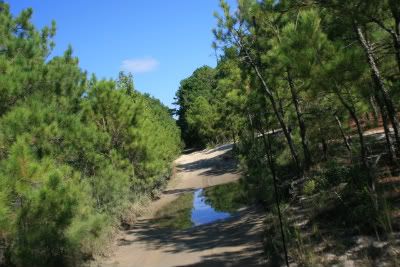 We reached the Virginia/NorthCarolina state line with its big fence and had to turn around. No horses yet.

Finally, we spotted three. . .

. . .and then three more. . .
. . . in somebody's yard?
Walking down the road?
What happened to the
wild
horses?
Where are the horses running down the beach, manes flying in the wind?

What kind of wildlife refuge has a bunch of houses and people? We even saw new houses being built. Oh well. You know what? We had a great time anyway. It was fun driving around looking for horses. And I am glad I finally got to see the wild horses. They were pretty.
Good man.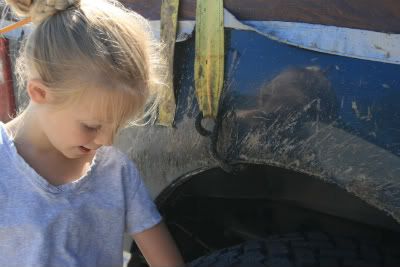 Good truck.