Setting up camp at First Landing State Park, Virginia.
One of the finer aspects of camping with little ones.
We had just enough time to head down to the beach to see the sunset.
Rohan was nervous about that boardwalk. He was nervous about that sand too. He didn't want to be touched as he walked down to the beach. He kept telling us, "Don't make me fall." We parked his tricycle in the sand. When he got back on it, I guess he thought he was sinking into the earth, because he totally freaked out. When we finally figured out he was scared to ride on the sand and put his tricycle up on the board walk, he was fine. It's not that he had never been to the beach, but when you're two, what happened a year ago doesn't really count.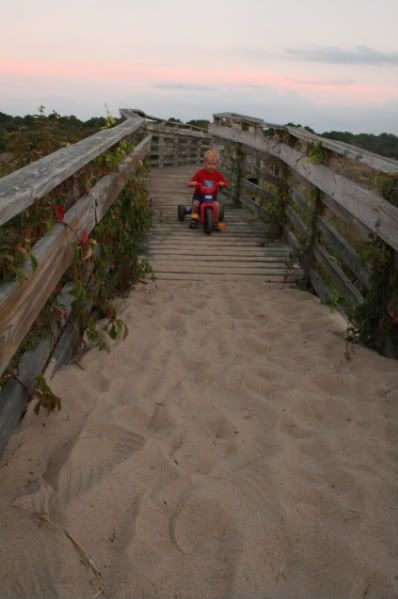 Testing the waters . . . cautiously. . .
Nope. Not gonna work.
To everyone else, the beach was pure bliss.
He was even scared for me to hold him while I stood in the water. But Zahana was having such a great time letting the waves knock her down that soon Rohan's tears turned to laughter.
Getting braver.
That's better!
To Larkin's delight, we found a crab on the walk back to the tent.
Home Sweet Home