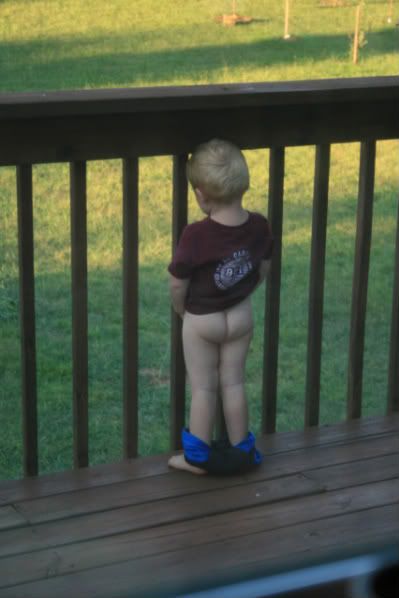 There are some advantages to being a two-year-old boy.
Gotta go?
Just shuck your drawers.
The kids have been a bit unsupervised today. We're leaving tomorrow on a week long camping trip. A had a few things to do.
Make 3 loaves of bread.
Make 2 lbs. of sausage.
Bake a chicken.
Boil beans.
Make 2 jars of salsa.
Make beef stew.
Make cheese crackers.
Make boiled eggs.
Go get some fruit and honey at the store.
Go pick up milk.
Take my rabbit to a friend's house.
Plus today was our first day back to co-op classes. Miah and Larkin are taking a multiplication and division class. I thought they might be bummed about only having one class and it being about multiplication and division. They were all excited when they got out though. They had a good time. Obviously, they have a good teacher. I stayed in the nursery with Zahana and Rohan.
But anyway. I shouldn't be sitting here. I've still got a list to complete if we're going to avoid eating out as much as possible this week.
Pick all the meat off the chicken.
Smash all the beans into refried beans.
Make some quick bread.
Make more crackers.
Slice carrots and celery.
And PACK!
Yeah . . . I better go.
See you next week.