I'm working on changing a few things on my blog - cleaning it up, making it prettier. I just cleaned up the blog lists on my sidebar and put them all under the sunflower picture that says Ideas and Inspiration. Take a look at the list of blogs and sites I put together, and check back from time to time for changes.
Now a few specific blogs I'd like to share.
Thanks to Heather at
Cultivated Lives
and Retro at
Homeschool Madness
for sending me the Versatile Blogger Award.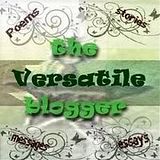 You may have noticed that I'm not really into all the rules of these awards. I'm supposed to tell you seven things about myself. I'm not going to do it. But I do like the opportunity to share great blogs, so here are the 15 people I'm passing this award on to.
A Homegrown Life
Ancient Hearth
At the Butterfly Ball
Dandelion Path
Earthboys
Eclectic Momma
GuestHollow
It's a Boy's Life
Just Us
Moment to Moment
Our Journey
Small Things
The Bowling Family
Twig and Toadstool
Zach Aboard