Hello to everyone visiting from
Lynette's
! It is lovely to meet new bloggers. I hope you enjoy your time here.
****************************************************
Yesterday, I ate one of those cookies (recipe soon, for those of you who asked). They weren't gluten-free. Bad girl! This morning, while I recovered, the kids pretty much did whatever they wanted. Which happened to be an obstacle course in the living room.
By early afternoon, I was back to normal, so we went outside to do a science experiment. Finishing up the chapter on Saturn in our
astronomy
book, we explored the chemical reactions required to launch a rocket into space. In other words, we put alka-seltzer and water in a film canister. The book had us construct a cute little paper rocket around the canister, but it ended up being a hindrance. It got wet and made it too hard to put the lid on the canister. So we took all the paper off and watched the film canister blast into space. Over. And over. And over.
Then they tried their own experiments.
Afterward, we decided to keep going in the book and learned a little about Uranus and the brother and sister who discovered the planet, William and Caroline Herschel. We read and then they acted out the discovery. Here they are with their telescopes:
Then we had a nice long quiet time to read Shakespeare, who happens to be next on our timeline. It was a wonderful coincidence that many of Uranus's moons were named after Shakespeare's characters. We found some very nice mostly-child-friendly picture books that Miah especially has enjoyed.
Two by Bruce Coville: Twelfth Night and The Winter's Tale, both written in prose.
And Poetry For Young People: William Shakespeare edited by Kastan. This one had excerpts from the plays and was lovely to read and listen too. Some of the pictures were dark and devilish and not so child-friendly, but the kids were all playing quietly on the floor and didn't ask to see the pictures. Most of the pictures were very beautiful though.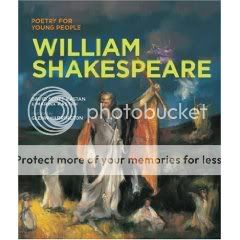 From
The Merchant of Venice:
The quality of mercy is not strain'd,
It droppeth as the gentle rain from heaven
Upon the place beneath. It is twice blest:
It blesseth him that gives and him that takes.
'T is mightiest in the mightiest: it becomes
The throned monarch better than his crown;
His sceptre shows the force of temporal power,
The attribute to awe and majesty,
Wherein doth sit the dread and fear of kings;
But mercy is above this sceptred sway,
It is enthroned in the hearts of kings,
It is an attribute to God himself;
And earthly power doth then show likest God's,
When mercy seasons justice.