We had a lovely wintry, Christmasy day today. We awoke to the first snowfall of the season. Rohan didn't know what to think at first. He just stared. Then all the kids went out to play, make snow angels, and throw snowballs.The chickens didn't know what to think either. They didn't sound too happy about all the cold white stuff in their yard.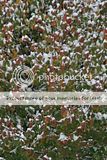 After lunch, we went over to Fort Loudoun for their Christmas event, where Zahana made a friend and we all enjoyed the Christmas carols and the shooting of the wall gun and cannon.
We came home and tried out
a new hot chocolate recipe
. It was really good!
Then we made some
cinnamon ornaments
. Mmmmmm!
"Come now, let us reason together,"
says the LORD.
"Though your sins are like scarlet,
they shall be as white as snow..."
Isaiah 1:18