This weekend, we made a spur-of-the-moment trip up to see family. Jeremiah's grandmother was visiting, and we hadn't seen her in about two years.
We had a lot of good food and fellowship.
The kids are always excited to see their cousins.
An amazing thing happened when Rohan finished eating and got down from his seat at the table. If you know Rohan, you know he does not like to be touched or talked to by people he doesn't know. He doesn't even let a lot of people he knows touch him. And he
hates
having his face washed. I can't think of anything he dislikes more. So he left his seat, went over to Great-Grandma and stood quietly while she wiped his hands and face. And when she was done, he asked her to do it again!
And we worshipped together. The first picture is Miah, and the second is Zahana. Yes, I felt kind of odd taking pictures in church, but I thought it was such a lovely moment to see the kids waving their flags together, learning to worship freely and with beauty.
The rest of the time was filled with tea parties and leaf piles and and a late night and more visiting and the making of precious memories.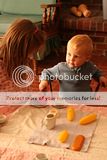 Enter into His gates with thanksgiving,

And into His courts with praise.

Be thankful to Him, and bless His name.

For the LORD is good;

His mercy is everlasting,

And His truth endures to all generations.
Psalm 100:4,5