". . .Shobi . . . brought . . honey and curds, sheep and cheese of the herd, for David and the people who were with him to eat. For they said, "The people are hungry and weary and thirsty in the wilderness." 2 Samuel 17:27-29
My mom came over to make cheese with me.
The cow
who normally gives us our milk is not producing at the moment. We've been craving good raw milk. I thought it was just me until Larkin said one morning over a glass of store-bought milk, "If I drink it really fast, it's kind of like fresh milk!" So when my mom brought six gallons of raw milk, we were
really
happy. Three of those gallons were for our first attempt at making cheese. Armed with Ricki Carroll's book on
Home Cheese Making
, we tried ricotta, mozzarella, and quark.
We started our quark first. Neither of us had heard of it before, but it looked easy enough and sounded good from the description. Just dump a packet of buttermilk starter into a gallon of 88* milk and let it sit for 24 hrs.
Then we started the ricotta. Dissolve 1 tsp. citric acid in 1/4 cup cool water. Pour it and 1 tsp. cheese salt into 1 gallon milk. Heat to 185*-195*, stirring often.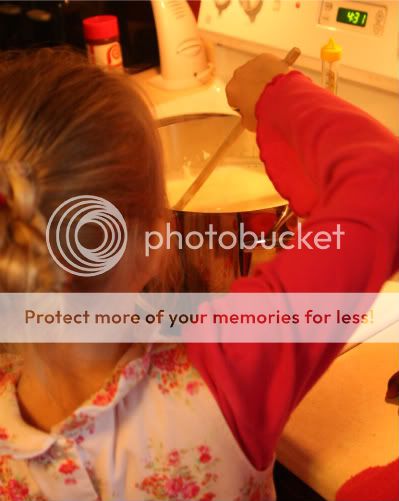 Curds. Exciting!
Then we had a problem. The curds and whey were supposed to separate until the whey was no longer milky. It was supposed to get clear and bluish. It never happened. We tried holding the temperature at 193* for several minutes, but the whey wasn't really changing. Maybe we stirred too much? I have no idea. Anyway, we finally gave up on the whey getting clear, since we did have a lot of curds. So we took it off the heat and let it sit 15 min., then drained it in cheesecloth.
Then we hung it up to drain for about 30 min.
And ta da! Ricotta! It had a good wholesomeness to it but wasn't really flavorful. We decided it would be good on salads with dressing or baked in dishes to soak up the flavor, which I guess is what it is used for. Next time, I think I'll add a couple Tbs. cream, which was optional and we didn't use this time, because it ended up being kind of dry the next day.
The next day, at the appointed time, we checked on our quark. When we lifted the pan lid, it looked like a solid gallon of plain yogurt and tasted similar too. We dumped it into a cheesecloth-lined colander to drain.
At this point we were really excited, because the quark was so smooth and had a very pleasant flavor. It would have been good in smoothies or just eaten with berries. But we wanted to see what the final outcome was going to be, so we went ahead and finished the recipe. Since there was so much of it, we took off about a third and put it in its own cheesecloth and hung it up to drain. The other two-thirds was so big we just left it in the colander to drain.
We let it drain for a few hours and then put it in the fridge in colanders. On top of the small batch, we placed a little plate and stacked some thick bowls on top for weights. We tried to put some weights on top of the bigger batch, but they kept slipping off so we just let it sit in a colander in the fridge.
And then we turned to "30-minute mozzarella." It actually took us much longer than 30 minutes, novices that we are. This recipe was slightly more involved and even used rennet.
Here are the curds coming out of the pot.
Kneading the mozzarella.
Miah forming it into balls.
It was OK. The flavor was alright, but I didn't like the texture. It was pretty tough. Next time, I'd like to try using lipase, which was optional. It's supposed to give the cheese more flavor and make it softer. I think I would like that better. It was fun to make though, and I'm sure that it would go faster with practice.
This morning, we unveiled the quark.
It was good. It was really good.
Actually what we unveiled was the smaller portion of the quark. It was rich, smooth, and creamy. It could be sliced into lovely little triangles and served with honey and blueberries. It was sublime. It was hard to stop eating - even all the kids thought so! Later we tried out the bigger portion. It had the same flavor but the texture was not nearly as nice. Next time, I'll divide it into three portions, save one portion as it is, and hang, then press the other two well. This quark was especially exciting for me. I can't usually eat soft cheeses like cream cheese, because I'm lactose intolerant. Since this was made from fresh, raw milk and used a starter culture, my tummy was just as pleased as my mouth. (And my mouth was
very
pleased!)
"A cheese may disappoint. It may be dull, it may be naive, it may be oversophisticated. Yet it remains, cheese, milk's leap toward immortality."
Clifton Fadiman -American writer