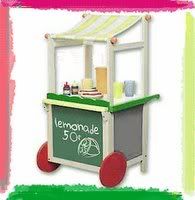 This award comes to me from Val at
Collecting The Moments. . . One By One
. Thanks Val! (I love your blog too.)
The Lemonade Stand Award is for being a blogger who shows great attitude and gratitude.
To pick up the Lemonade Stand Award:
*Comment on this blog.
*Cut and paste the award logo and use it in your own blog.
*Nominate 5 to 10 blogs you feel show great attitude and gratitude.
*Link to your nominees within your blog post.
*Comment on their blogs to let them know they've received the award.
*Link back to the person who gave you the award to show your appreciation.
Here some great blogs I really enjoy:
5 Orange Potatoes
A Foothill Home Companion
Aspiring Homemaker
Having Fun At Home
Imagine Childhood
In The Sparrow's Nest
Knitting Iris
Looking For Something Deeper
I hope you enjoy them too!