Thursday was the American Heritage Girl Spring Awards Ceremony. Miah was very excited to receive the badges she earned.
One badge she earned was "Caring For My Environment".
She learned about recycling from
this online recycling story
then restarted our recycling here at home. She colored a page from
this free coloring book
and hung it up at the library. The best part of earning this badge was going to clean up trash at a local park. It was funny watching Miah and Larkin spend so much time trying to reach the hard-to-get pieces. They spent about an hour cleaning up but didn't really gather that much. One plastic bottle was down in a hole and that one took about 15 minutes to dig out. There was a little kid and his dad a few feet in front of us going along kicking and throwing trash into the creek. Miah said very innocently, "Why are they doing that? If they would just leave it on the bank, we could pick it up." I failed to come up with a good answer for that one. This was a good experience for her. Just today, she was picking up trash at the ballfield while Larkin played t-ball.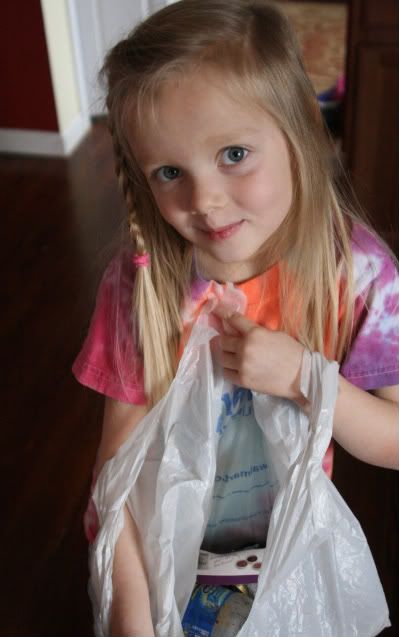 Other badges she earned:
Cooking
Cake Decorating
Father/Daughter Banquet Patch
One Service Star
Citizenship and Government
Our Flag
Personal Hygiene
Those last three she earned when she was with her troop.
Thanks to all the hard-working AHGirls and all the leaders who made the ceremony so special!