The
muffin tin dinner theme
for today is Easter! We had ours for breakfast, and it was a wonderful opportunity for discussion.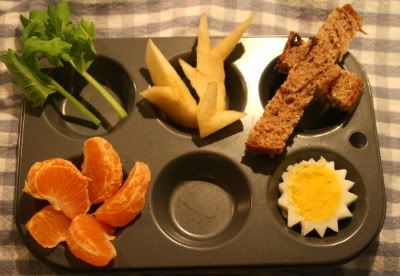 Top:
Celery - palm branches
"Then they brought the colt to Jesus and threw their clothes on it, and He sat on it. And many spread their clothes on the road, and others cut down leafy branches from the trees and spread them on the road. Then those who went before and those who followed cried out, saying:
' Hosanna! "Blessed is He who comes in the name of the LORD!" Blessed is the kingdom of our father David That comes in the name of the Lord! Hosanna in the highest!'" Mark 11:7-10
Apples - thorns
"When they had twisted a crown of thorns, they put it on His head, and a reed in His right hand. And they bowed the knee before Him and mocked Him, saying, 'Hail, King of the Jews!'" Matthew 27:29
Bread - cross
"Then he delivered Him to them to be crucified. Then they took Jesus and led Him away. And He, bearing His cross, went out to a place called the Place of a Skull, which is called in Hebrew, Golgotha, where they crucified Him, and two others with Him, one on either side, and Jesus in the center." John 19:16-18
"For it pleased the Father that in Him all the fullness should dwell, and by Him to reconcile all things to Himself, by Him, whether things on earth or things in heaven, having made peace through the blood of His cross. And you, who once were alienated and enemies in your mind by wicked works, yet now He has reconciled in the body of His flesh through death, to present you holy, and blameless, and above reproach in His sight— if indeed you continue in the faith, grounded and steadfast, and are not moved away from the hope of the gospel which you heard . . . " Colossians 1:19-23
Mandarin oranges - flower
"Therefore we were buried with Him through baptism into death, that just as Christ was raised from the dead by the glory of the Father, even so we also should walk in newness of life." Romans 6:4
Empty cup - empty tomb
"But the angel answered and said to the women, 'Do not be afraid, for I know that you seek Jesus who was crucified. He is not here; for He is risen, as He said. Come, see the place where the Lord lay.'" Matthew 28:5,6
Hard-boiled egg - sun
"Then Jesus spoke to them again, saying, 'I am the light of the world. He who follows Me shall not walk in darkness, but have the light of life.'" John 8:12
*******************************************************************************
Today is the last day to enter
my first giveaway
. I'll draw a name and announce the winner tomorrow.