That title cracks me up.
I'm starting a regular series on food that kids can prepare and hopefully will enjoy. Kids can learn a lot in the kitchen - cooking, of course, and measuring, counting, fractions, reading recipes. But I think the most important thing is that cooking with kids can be a time of fun and togetherness, as a family or one-on-one.
All inspiration for this comes from
Jojoebi
. She recently hosted a postcard swap that I joined to trade recipes that kids could help make. Here's the recipe we shared for easy, healthy
sorbet
.
You will need:
1 c. fruit
1/4 c. juice
1 tsp. honey (opt.)
Chop your fruit. We chose strawberries.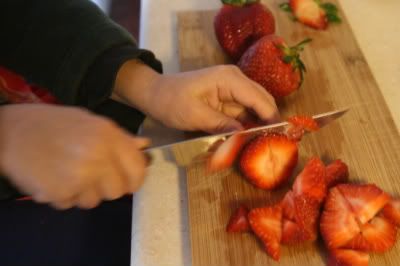 Put all ingredients in the blender and puree until smooth.
Pour into three individual serving dishes.
Place in freezer for 30 min. If you leave it longer, it will get too hard. In that case, just set it out for a few minutes to soften before serving. Stir and enjoy.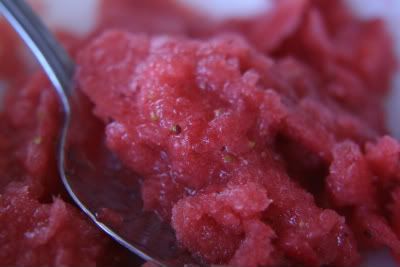 I'll post the recipes we receive in the swap and hopefully many more. Have fun in the kitchen!
One of the very nicest things about life is the way we must regularly stop whatever it is we are doing and devote our attention to eating. ~Luciano Pavarotti and William Wright